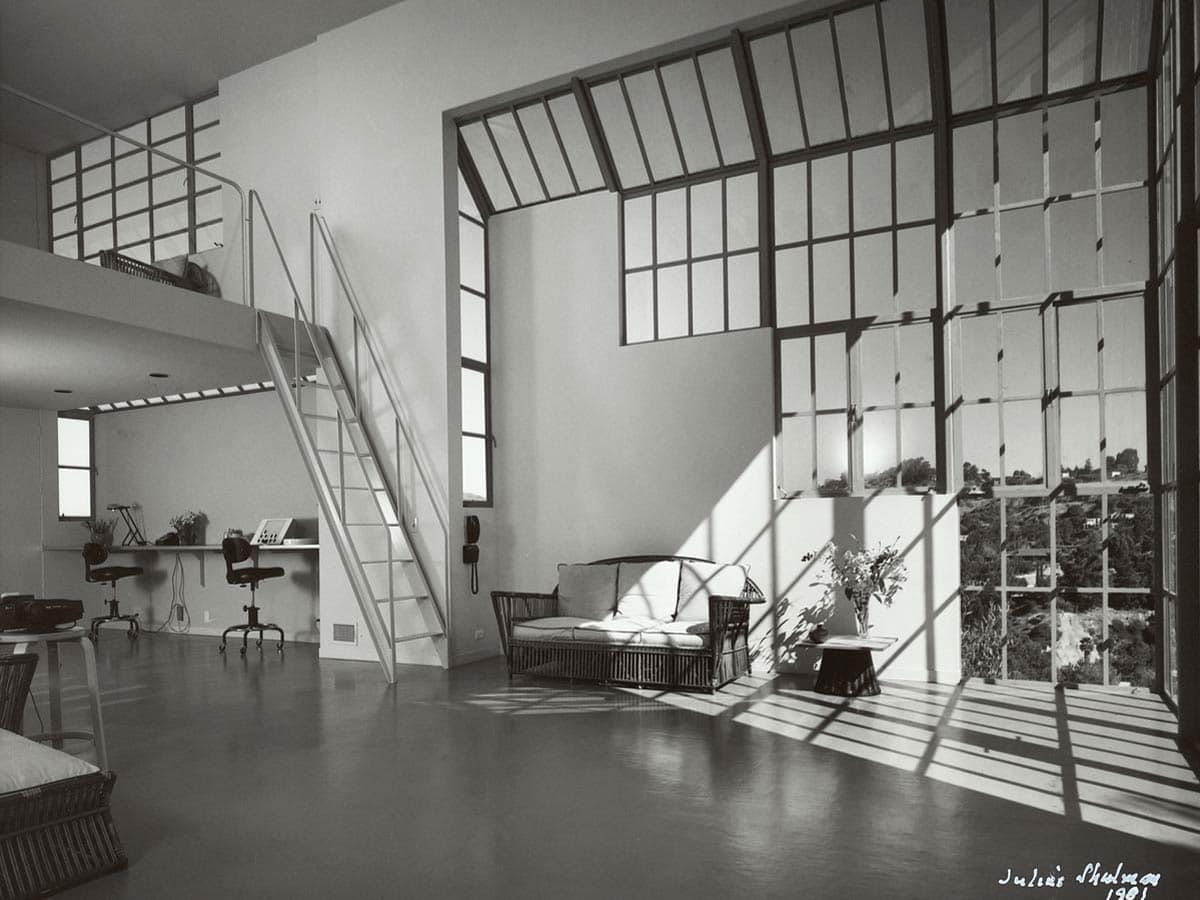 Julius Shulman's "Kalfus Studio" for EYRC Architects
Photography and architecture have been intertwined since it was first developed. After all, photographs introduced a realism that was, until then, virtually impossible to achieve through other mediums. This realism, paired with a photograph's ability to travel much further and faster than many individuals, allowed for a remarkable exchange of ideas and inspiration.

Today, modern architectural photography influences the very ways in which the public consumes architecture; for example, through social media. Even this modern movement, however, has its roots in the architectural photographers that came in the 20th century.
Influential Architectural Photographers
Below, Takashi Yanai, FAIA and Partner here at EYRC Architects discusses some of the most influential architectural photographers who have left their impact on the field.
1. Julius Shulman
Julius Shulman was born in 1910 and went on to become a giant of mid-century modern architecture, especially in Los Angeles. He was among the first photographers to actually include the inhabitants of homes into his photographs. The result is that his photographs feel very much alive, especially in comparison to the sterility of other photographers that sometimes went to painstaking lengths to capture images devoid of human life.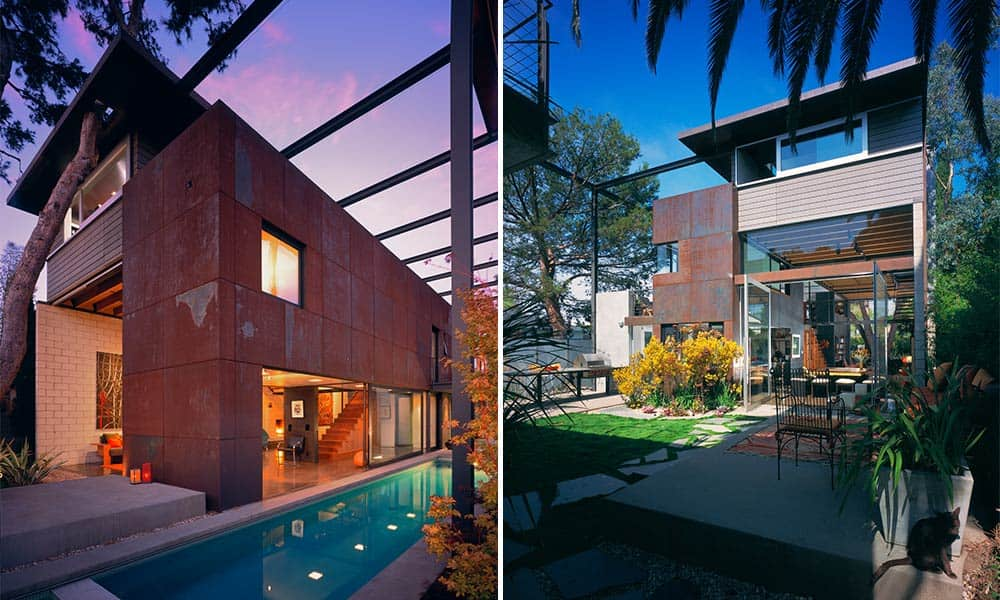 EYRC Architects' 700 Palms Residence as photographed by Julius Shulman with Juergen Nogai.
While Shulman captured many photographs during his life, he is particularly famous for his work documenting Richard Neutra's Kaufmann House and Pierre Koenig's Case Study House No. 22. He also photographed architecture by Oscar Niemeyer, Charles and Ray Eames, and Frank Lloyd Wright.

"Shulman was known for his work with mid-century architecture," says Yanai. "A lot of his work had to do with portraying a lifestyle. So it was like the architecture in conjunction with the promise of a new kind of living. He was all about sort of staging this portrait of a wonderful life and how architecture was part of it."
2. Ezra Stoller
Whereas Schulman often emphasized the human element in his photographs, his contemporary Ezra Stoller took a different approach, rarely featuring people in his images in order to allow the architecture to truly stand on its own. He shot largely in black and white and only occasionally in color. In his work, Stoller was driven to capture the architect's eye: His photographs sought to focus on the ways in which architects looked at how light interacted with architecture, space, composition, and material. You can see examples of his work here.

Some of the photographs that Stoller is most well-known for include his images of the TWA Terminal, Guggenheim Museum, and Seagram Building. His depictions of these iconic landmarks significantly influenced the public perception of those buildings.

"Stoller's work was more about the drama of architecture and how architecture was about composition and clarity and rigor and the interplay of materials and space than anything else," says Yanai. "He placed heavy emphasis on the visual impact of his photographs."
3. Iwan Baan
Iwan Baan is somewhat unique in the fact that he is a modern photographer who is still active today. Born in 1975, Baan takes a page out of Schulman's playbook by very often featuring people in his work. His photography is all about letting the photograph tell its story. It's less hung up on capturing a perfect or idealized image of the building. You can see examples of Baan's work here.

"Baan has influenced architecture in the way that he reminded architects that the people in it—or the events around the architecture or the program that the architecture is serving—is important," says Yanai.

Interestingly, Yanai says that Baan's work has even had a direct influence on the materials that architects would go on to use.

"A lot of Baan's photographs are blown out, meaning they're overexposed," says Yanai. "The result is that his work often looks as though it is drenched in sunlight. There was a period of time when many architects consciously chose lighter materials in order to achieve a similar effect."
4. Yukio Futagawa
Yukio Futagawa spent more than 60 years as a photographer. While he was known for being an architectural photographer, he didn't use that term to describe himself. Instead, he considered himself a photojournalist or reporter, says Yanai.

Futagawa's style was unique in that he never used artificial light. Additionally, instead of playing around with different angles or perspectives, he liked to shoot buildings straight on. The result was something very approachable and unpretentious.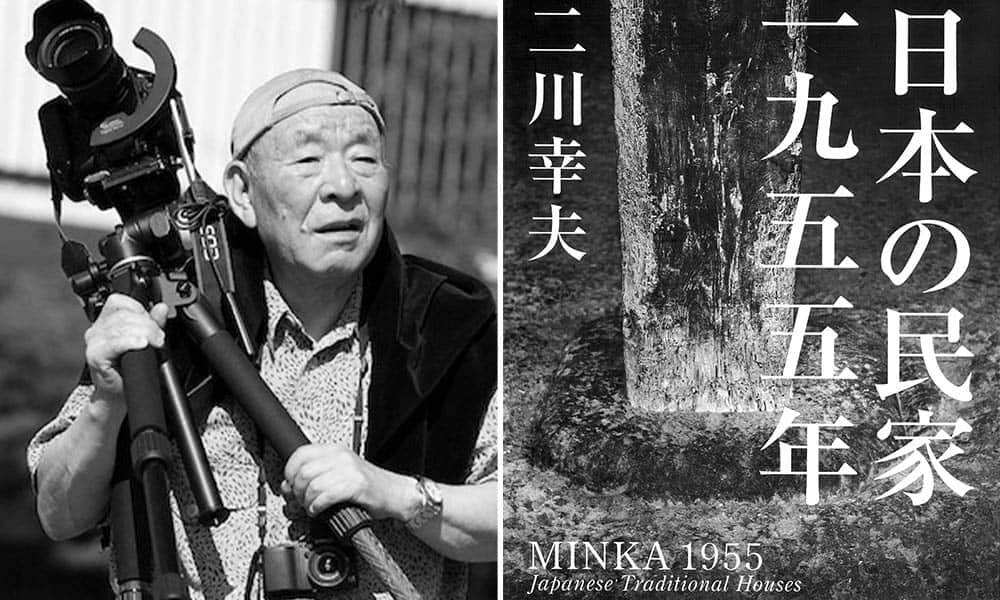 Yukio Futagawa in 2008. "Minka: Japanese Traditional Houses", published in 1957.
"Futagawa never staged his work," says Yanai. "It was all about: 'This is what it is,' and nothing else."

Among Futagawa's various projects, Yanai notes that the magazine that he founded called GA Houses has for decades been a gold standard for residential architecture, cementing his legacy and spreading his influence even further.
5. Hiroshi Sugimoto
The final entry in this list is, admittedly, not an architectural photographer at all, says Yanai, but instead an artist who uses photography as his medium. Architecture is just one of a number of different subjects which Hiroshi Sugimoto features in his work.

That being said, his series Architecture consists of photographs of buildings that are culturally very important—the Eiffel Tower, Chrysler Building, Sydney Opera House, and Guggenheim Museum among them. But while other photographers typically aim to capture as much detail as possible or capture a building from an interesting angle or perspective, Sugimoto's technique is very specifically to blur the image.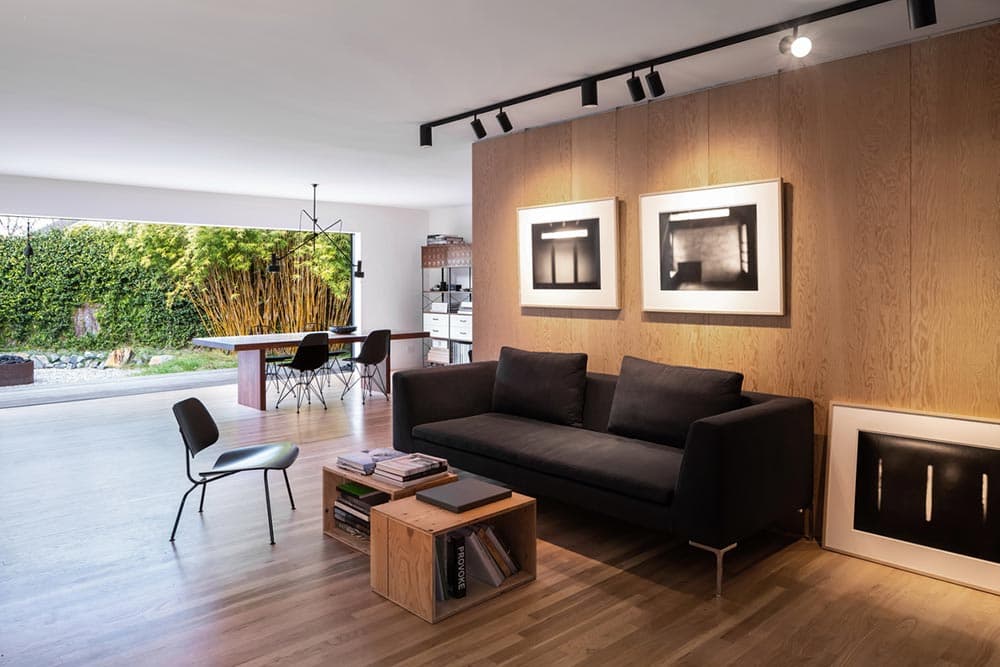 Prints of Sugimoto's "Schindler's House" on display in Yanai's own home, photographed by Paul Vu.
"What he's trying to do is extract out of the image or use the image to extract the essence of the architecture," says Yanai. "It's a very interesting way of approaching architecture."
Architectural Photography at EYRC
Here at EYRC, photography plays an important role in all of our work, both on the residential and commercial studios. We pride ourselves not only on the work that we complete, but also on the partnerships that we maintain. This includes a number of architectural photographers with whom we often work closely.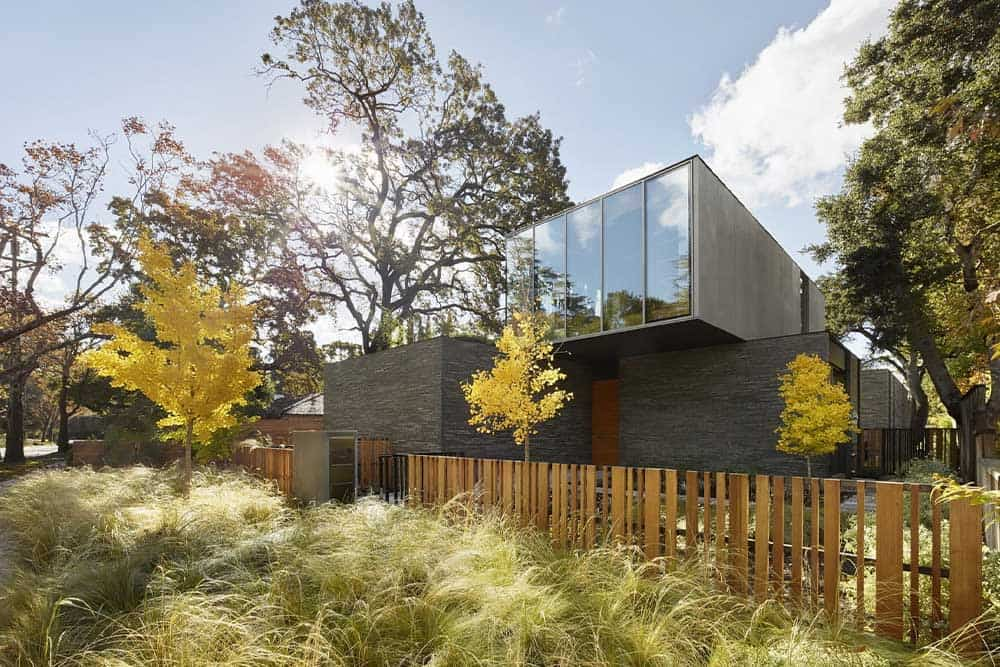 Matthew Millman has photographed a number of our projects, including Waverley, Kuhlman Road, and Spring Road. His work is very artful, and yet he always finds the best way of portraying a project in its entirety. In addition to capturing beautiful photographs, his work captures the "story" of the project, which is just as important.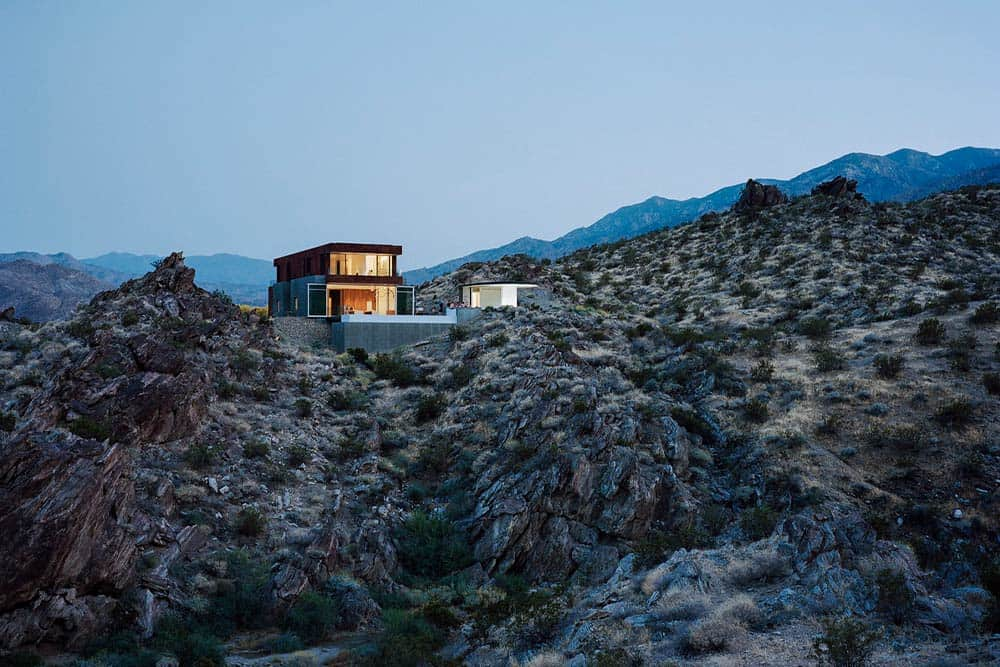 Joe Fletcher is extremely skilled in his ability to create images that capture the drama of the relationship between the architect, landscape, and atmospherics (light, hue, shadow) of the time of day—elements that are very important to our work and aesthetic. Some of the projects he has photographed for EYRC include Ridge Mountain and Waverley.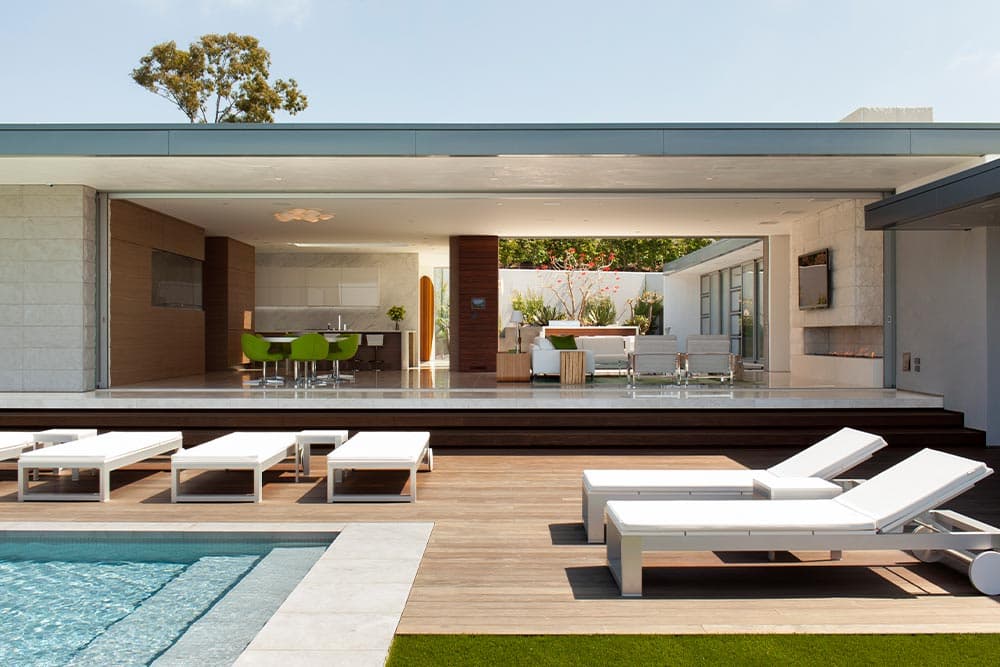 Roger Davies' real strength lies in his ability to capture the essence of the interiors that he photographs in order to communicate the life that is lived within the architecture. The result is very often a portrait of both the client and the architect that captures the ways in which architecture is a reflection of the people who are living inside. For EYRC, he's photographed Irvine Cove in Laguna Beach, CA.
A Critical Relationship
Architecture and photography have always influenced each other in important ways. Throughout the 20th century, a number of influential architectural photographers like those discussed above essentially defined the practice. But just as architects of today stand upon the shoulders of giants, so too do modern architectural photographers continue to evolve.