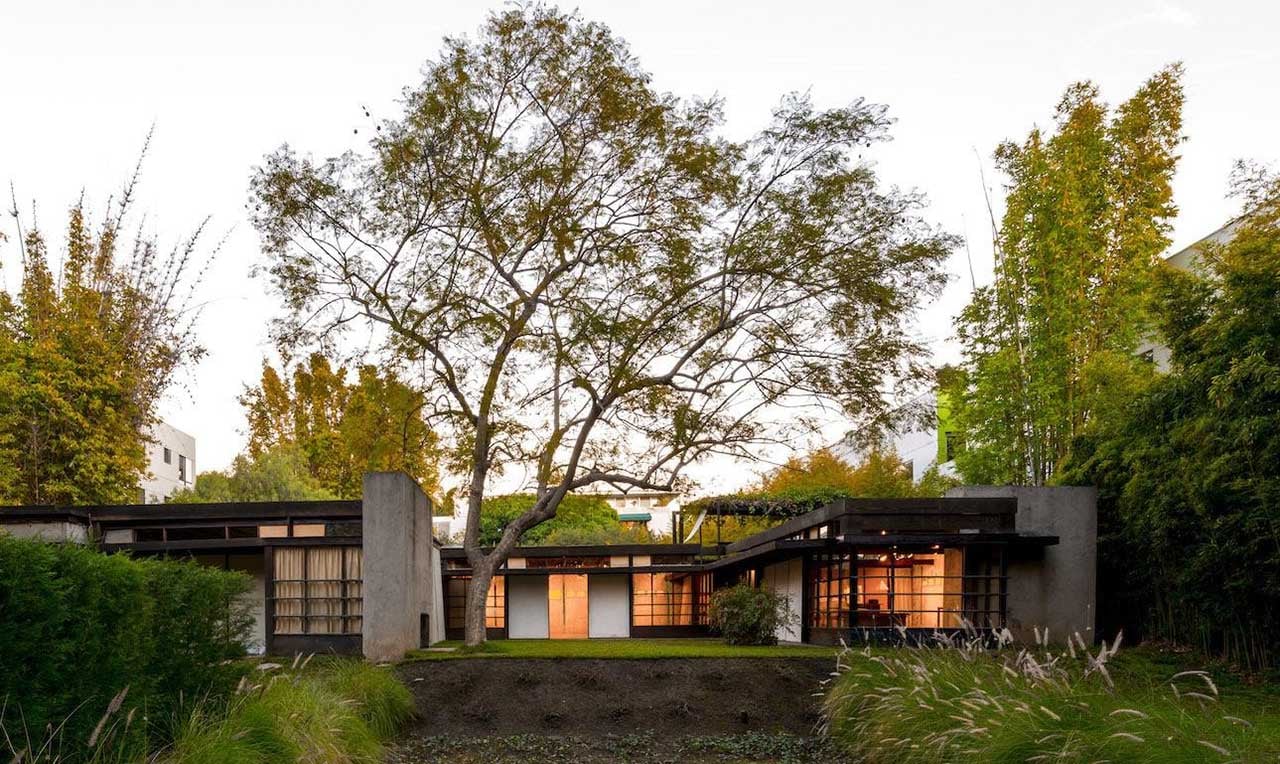 Kings Road House, West Hollywood, CA - Rudolph Schindler, 1921. Image by Joshua White.
Written by Takashi Yanai
In a region characterized by optimism and creativity, it is no surprise that California residential architecture is composed of an eclectic mix of style and space. Though often dismissed as a superficial stage of both work and life, California carries a deeply influential history and place in residential modernism.
A State of Transplants
The Gold Rush of the 1840s attracted people of ambition and hopefulness to California, transforming the remote coastline to a booming state of transplants. Continuing the lineage of such dreamers, the 1920s brought filmmakers, creators, actors and actresses to establish studios to Hollywood, making Los Angeles the center of popular culture.
Downtown Culver City (1950s). Culver City, California: The First Hundred Years.
Beyond the film industry, people from the Midwest and New England moved to the booming cities of San Francisco and Los Angeles, attracted by the climate and cheap land. Largely stripped of Native, Spanish and Mexican architecture, it is not surprising that they along their own recollections of home.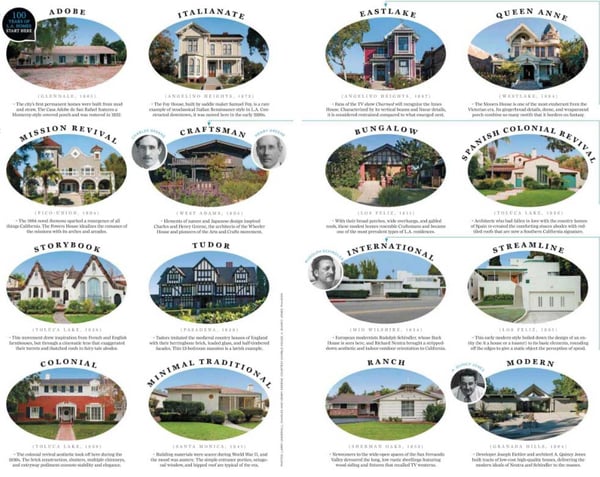 A variety of residential styles. Image courtesy LA Mag.
From the early 20th century to the present day, single family homes in Los Angeles represented a sprawling mix of styles, ranging from Colonial to Georgian to Tudor.
Lacking singular design expression, a few architects made a case that a distinctly regional modernism would be a more appropriate response than a stylized mimicry of a far-away place. Perhaps no other house is more influential in defining this California residential modernism than Rudolph Schindler's Kings Road House.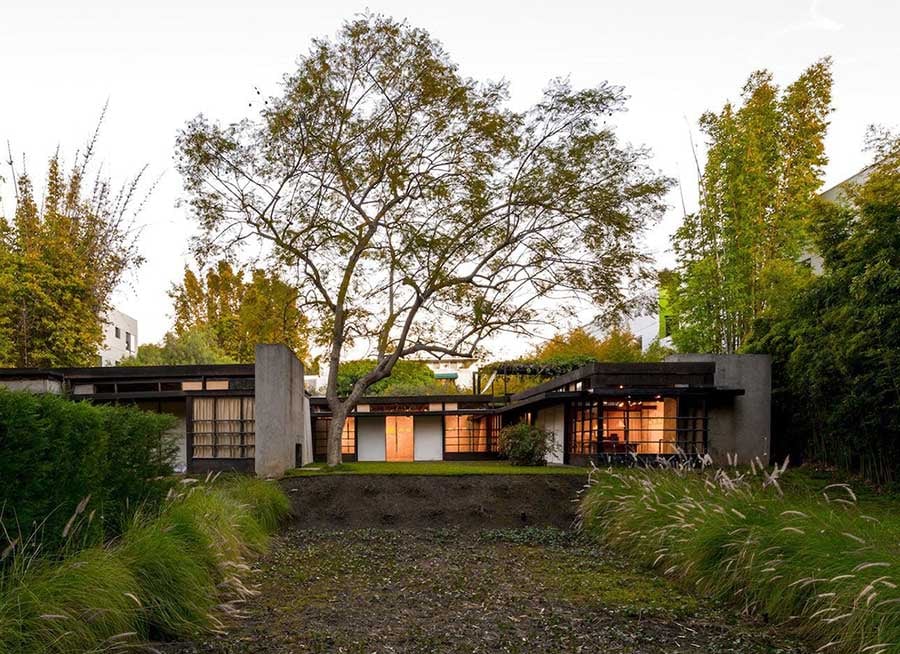 Kings Road House, West Hollywood, CA - Rudolph Schindler, 1921. Image by Joshua White.
Rudolph Schindler and the King's Road House
Born and educated in Austria, Schindler moved to Chicago in 1914 in hopes of working for Frank Lloyd Wright. Schindler was hired by Wright in 1918 to complete his United States-based projects while Wright was in Japan to work on the Imperial Hotel.
With his new wife, Pauline Gibling, Schindler moved to California in 1920 to oversee the Hollyhock House, a significant Mayan Revival residence that is now the center of the Barnsdall Art Park.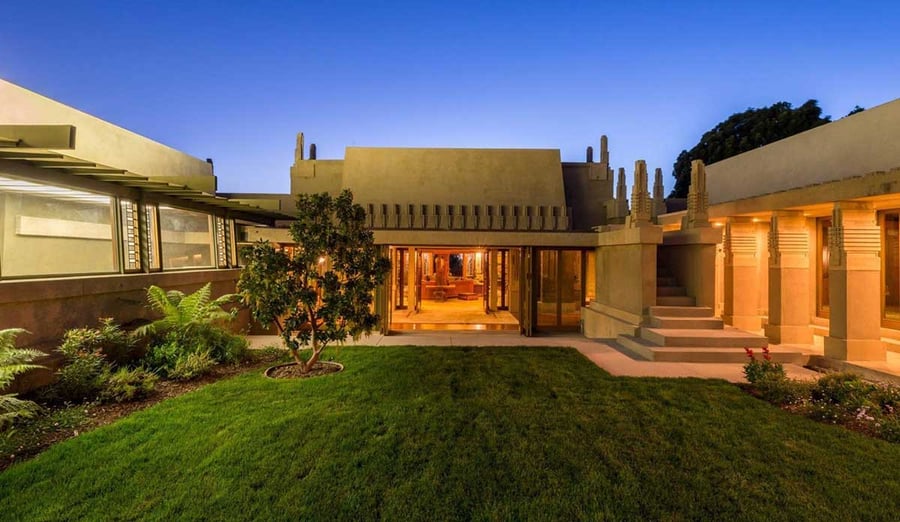 Hollyhock House, Hollywood, CA - 1919-1921. Image by Joshua White, courtesy of www.dezeen.com.
While working on Wright's commissions, Schindler took on a few projects on his own. Most significant of these was for Schindler's own home on Kings Road.
The house was an ambitious experiment in design, construction and social living on a budget, creating a low-slung communal home for two couples on an unincorporated lot now considered West Hollywood.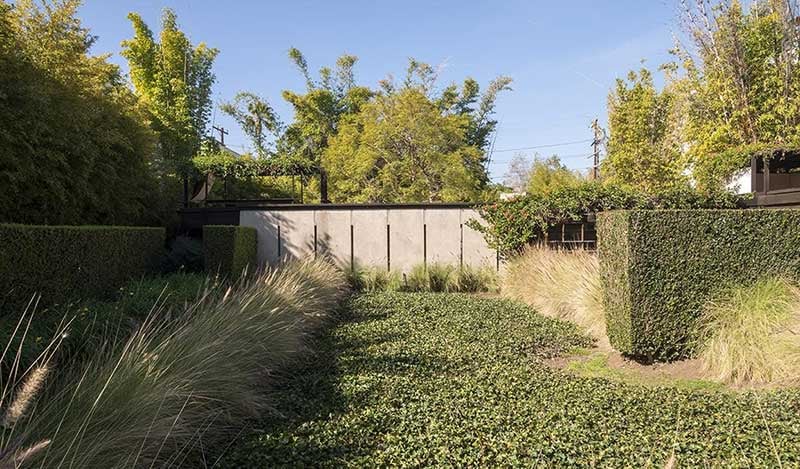 Kings Road House, West Hollywood, CA - Rudolph Schindler, 1922. Image by Joshua White.
Though sharing design aspects characteristic of strict European Modernism (such as flat roofs, expanses of glass and lack of ornamentation), Schindler's design responds to the site with a different attitude.
Instead of raising the house off the ground, disengaging the house in a way that it could be placed anywhere in the world, Schindler embeds the home in the site that blurs the distinction between inside and outside. In contrast to the more inward-looking homes of Wright's and the many more conservative designs of that era, the Kings Road House deliberately and carefully opens to the natural surroundings.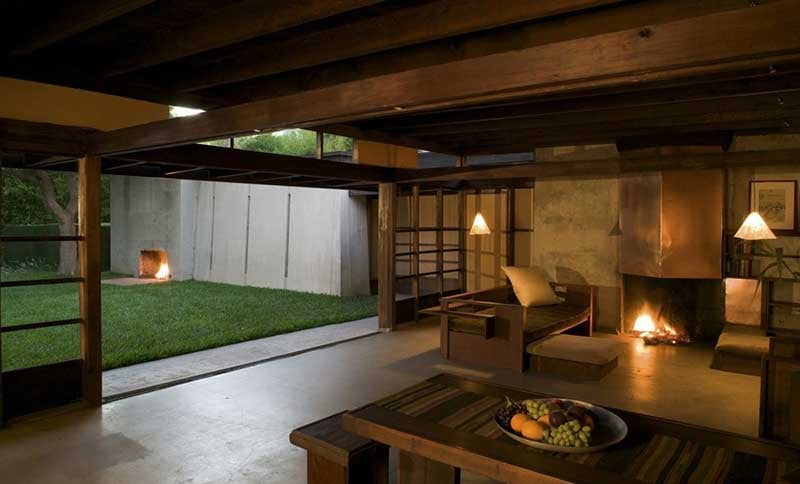 Kings Road House, West Hollywood, CA - Rudolph Schindler, 1922. Image by www.insidesinside.org.
The climate of Los Angeles allowed Schindler to take advantage of a true inside and outside lifestyle. Arranged around courtyards, each wing of the house opens to different gardens in the landscape, creating visual and physical connections. These courtyards become outdoor rooms, intentionally designed for social gatherings. Fully embracing the dry and warm climate, the home uses long overhangs to control light, walls the slide open and roof terraces for outdoor sleeping.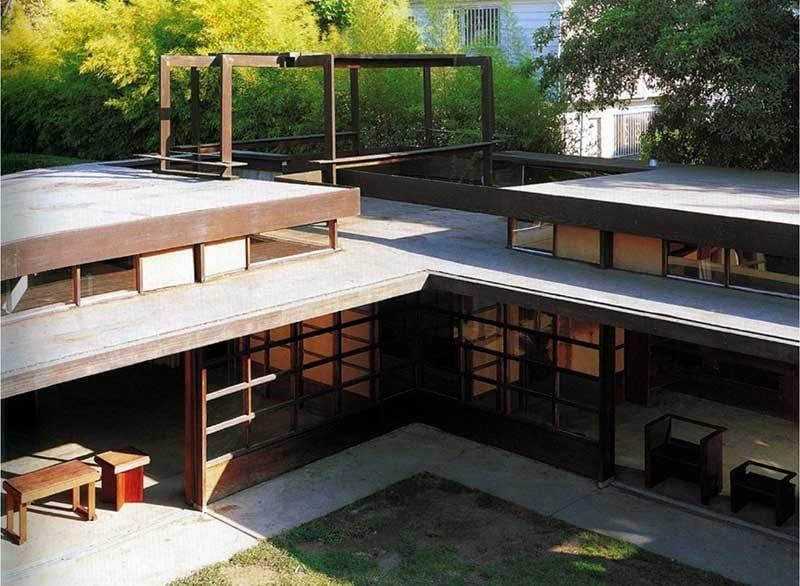 Kings Road House, West Hollywood, CA - Rudolph Schindler, 1922. www.makcenter.org
The choice to incorporate sleeping lofts rather than traditional bedrooms is one choice that reflects the bespoke lifestyles of the inhabitants within a unique living arrangement. Organized as a single-story pin-wheel of interlocked wings, the Schindlers and another couple of Marian and Clyde Chace, shared the home and communal kitchen while each had a studio of their own.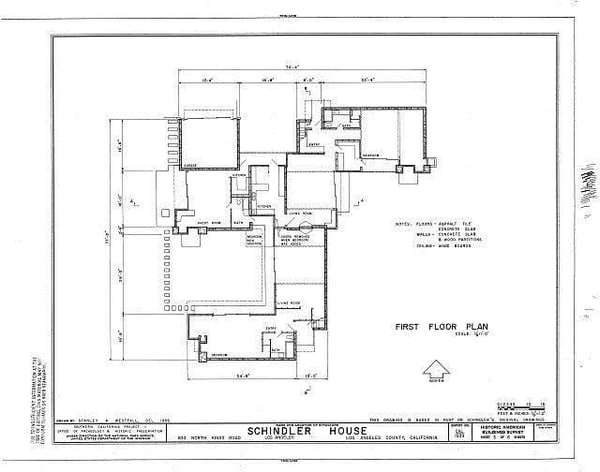 First Floor Plan - Kings Road House, West Hollywood, CA - Rudolph Schindler, 1922.
Intent on keeping costs low, all four original inhabitants worked on the actual construction of the house. Modifying Irving Gill's pioneering method of tilt-up concrete, the house is composed of long walls made of four-foot spans of concrete.
With a rough and unfinished textured, each monolithic concrete segment is separated by a simple glass insert. Combined with a simple post-and-beam wood system, the house was built quickly and economically.
Tilt-up construction, Kings Road House, West Hollywood, CA - Rudolph Schindler, 1922.
The result of the construction method and design intent is a shifting play of materiality, allowing industrial materials to combine with refined wood-working to create a spare but crafted environment.
The concrete slab acts as both foundation and finish floor, the concrete walls remain bare, and wood is left unfinished. The concrete reappears in the seamless bathroom sink and tub, lit by a vertical strip of glass and reflecting light from the clerestory. The heavy opaque elements contrast with walls of wood, canvas and glass, adding layers of transparency.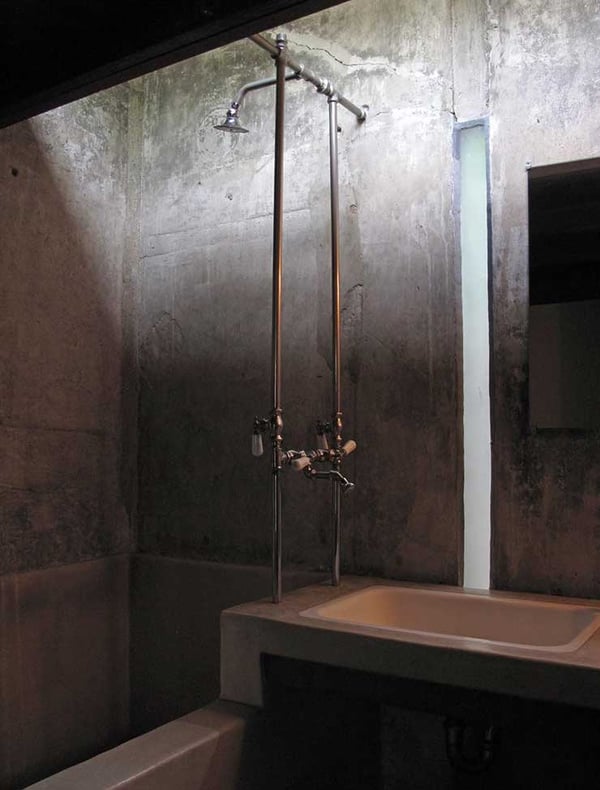 Kings Road House, West Hollywood, CA - Rudolph Schindler, 1922. Image by Joshua White.
A Specifically Californian Modernism
Local in material, craft and conception, the Kings Road house helped define a specifically California modernism for generations to come. Though the initial social experiment ended when the Chaces moved after two years in 1924, a former classmate of Schindler's from Vienna, Richard Nuetra moved in.
Schindler and Nuetra began a partnership in the Kings Road that would see each become independent and influential architects in California and beyond. Though separated since 1927, Pauline moved back into the Chaces' wing at the end of the 1930s. As the Los Angeles developed around the home, the legacy of the Kings Road house was ensured by the MAK Center for Art and Architecture starting in 1994.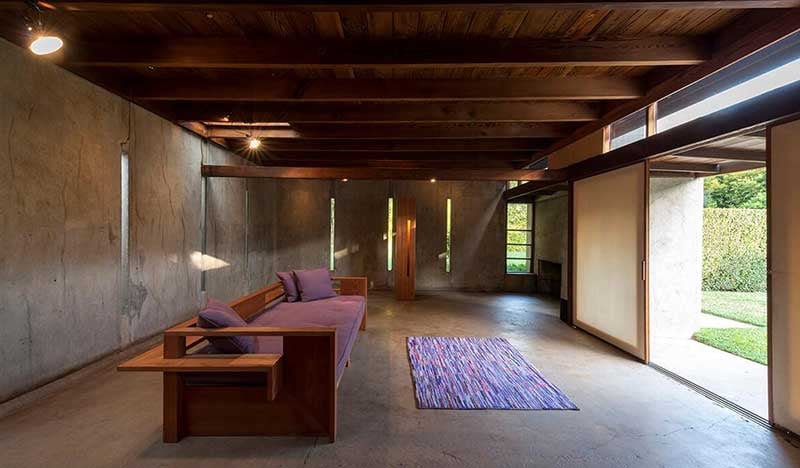 Kings Road House, West Hollywood, CA - Rudolph Schindler, 1922.
Nearly one hundred years since the arrival Rudolph Schindler, Richard Neutra and the first Euro-centric influences of modernism, California has shown that is an opportune place to challenge ideas of tradition, domesticity and design.
Numerous architects have used California's exceptional climate and ambitious ethos as inspiration to craft a regional modernism molded to place.Defined by change and creativity, Los Angeles residential architecture has and will continue to build upon the enduring influence of Schindler's King Road House.
---