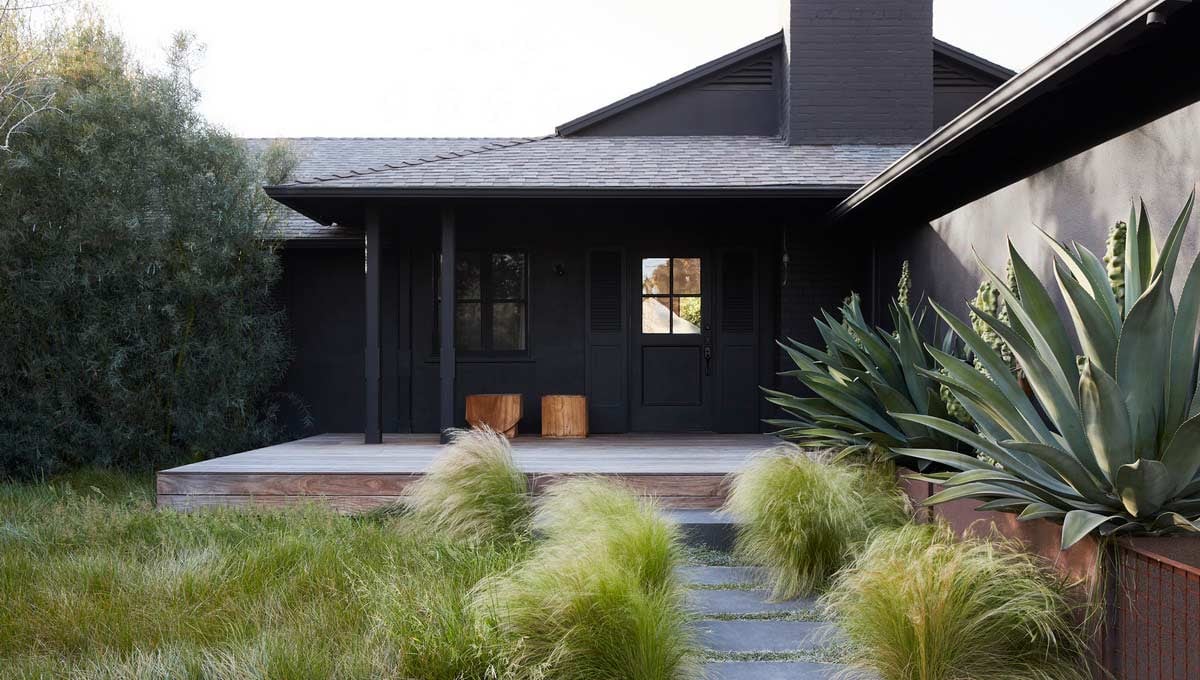 When it comes to mid-century modern design, the lifestyle and interiors of the house are often what complete the story. The architecture becomes a backdrop, and lifestyle comes to the foreground.
A key element of the movement is built on blending of outside and inside spaces; it's only natural that the interior of a structure be just as meticulously planned and envisaged as the exterior. The lifestyle of the residents is what brings life to the structure. For this reason it's crucial that the exterior forms coincide with the interior design and planning.
Here, we explore the defining characteristics of mid-century modern design in the broadest sense, and then take a closer look at how each of these characteristics is embodied in the design of the interior.
What is Mid-Century Modern Design?
Mid-century modernism refers to a design movement that came into being in America roughly between the 1940s and the 1970s, influencing everything from graphic design to urban development to product design and, of course, architecture.
In the architectural sense, mid-century modernism grew out of the Bauhaus and International movements. It would itself grow into a number of additional movements, such as California Modernism, which tailors its approach to the weather, climate, and materials which are unique to California.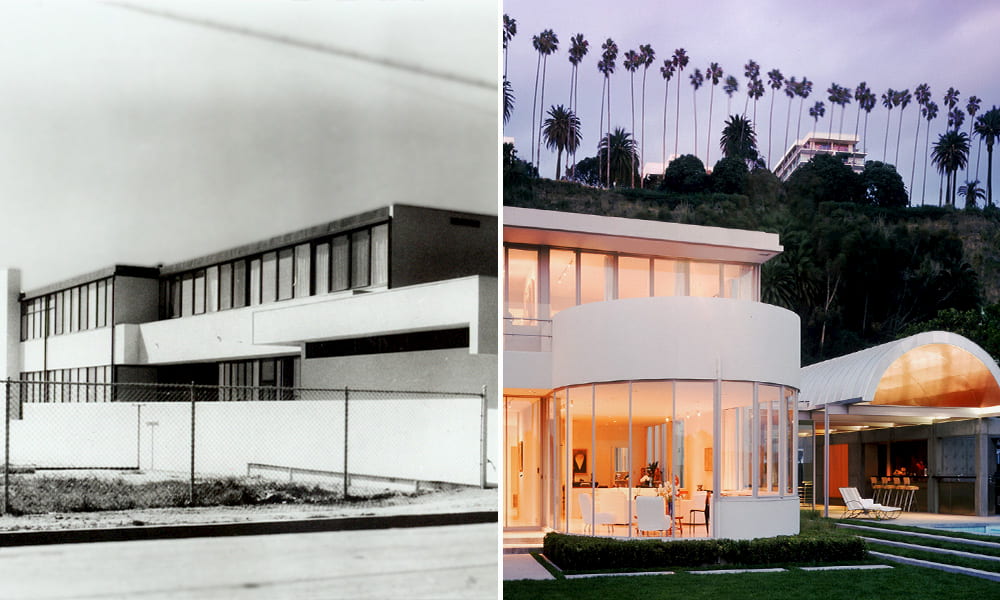 Left: Historic photo of Richard Neutra's 1938 Lewin Residence in Santa Monica, CA. Right: Addition to Neutra Beach House by EYRC.
Some of the most influential architects and designers which fall under this style include Richard Neutra, Josef Eichler, Donald Judd, and Rudolf Schindler, amongst others.
Mid-century modern architecture is perhaps best characterized by the following traits:
Simplicity and Purpose in Mid-Century Interiors
Below, we take a look at a renovation project completed by EYRC for two of the firm's partners, Takashi Yanai and Patricia Rhee: The Kingsland residence.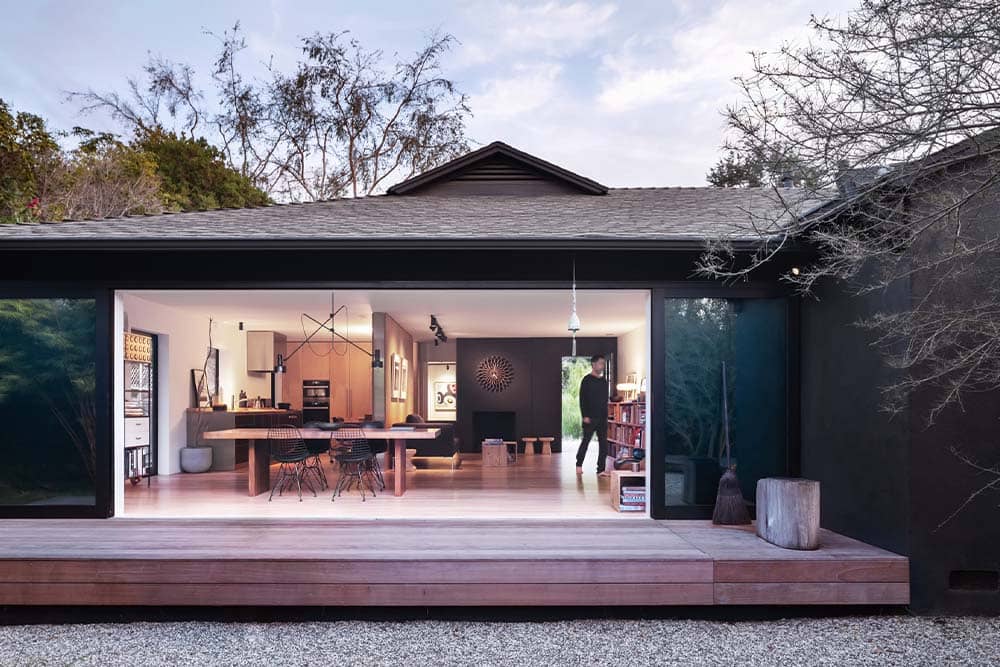 Although built in the 1950s, the Kingsland residence in its original state did not embody the characteristics of mid-century modern design. The renovation was centered around making purposeful revisions that aligned with the mid-century modern ethos. Let's explore how three defining characteristics of mid-century design—simplicity, flow, and purpose—shaped this renovation and other interior spaces.
Simplicity
A major element of mid-century modern design is simplicity—both in the space itself, as well as in the materials used throughout the home. While many might take this to mean that mid-century homes are minimalist, that would be a mischaracterization; mid-century homes embrace modern conveniences, while shying away from excess. Utility and function replace adornment. This concept stems down to the objects chosen for the house, even flatware.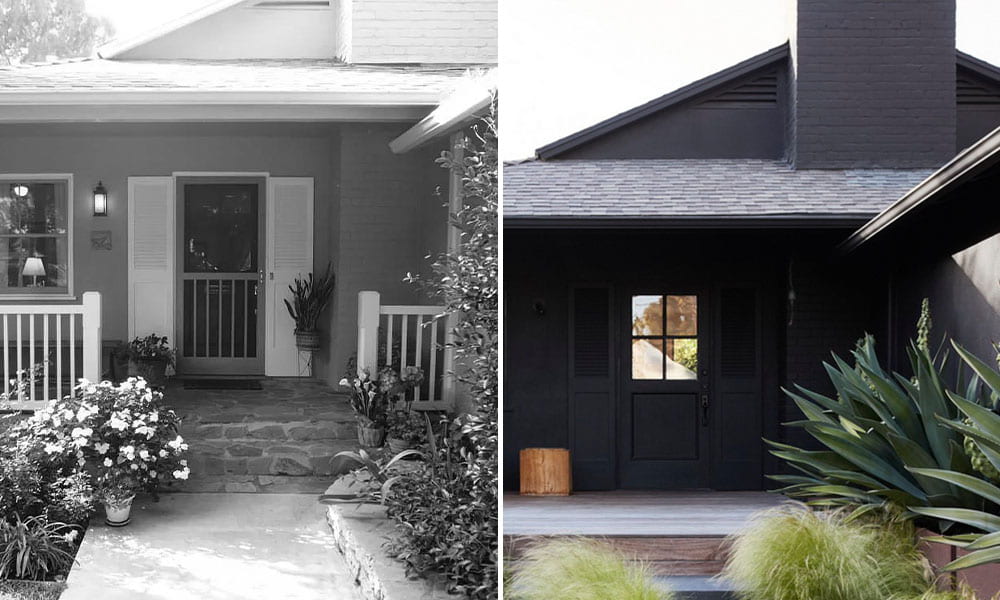 Left: Existing exterior; Right: Remodeled exterior.
In the Kingsland residence, our case study house for this topic, we can see this simplicity reflected in both the color palette (black and white) and material palette (marine-grade plywood—a direct homage to humble mid-century modern roots) of the home. The end result is a home which has become a backdrop for everyday life.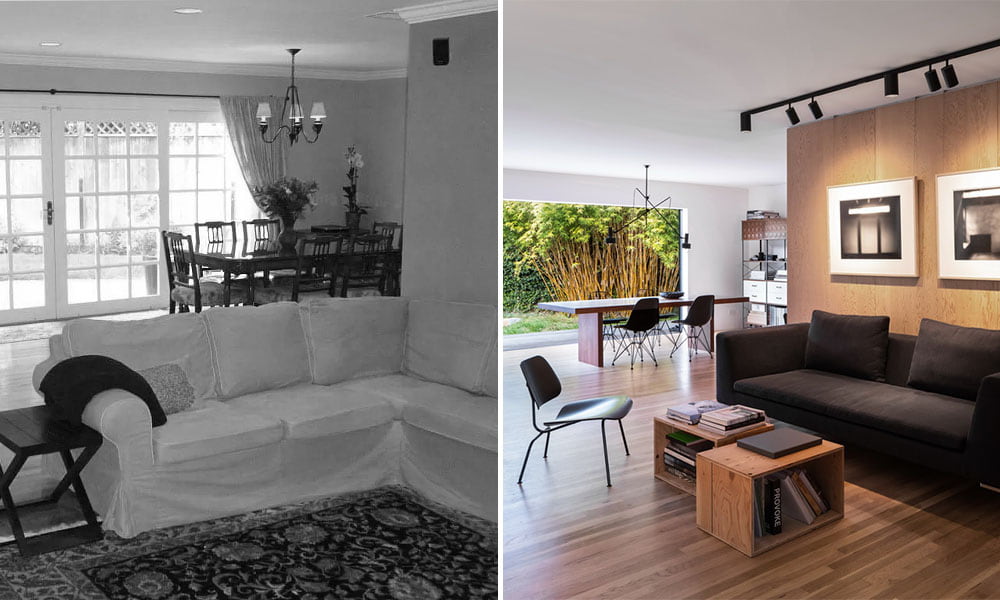 Left: Existing living room; Right: Remodeled living room.
The Schindler home on Ellis Avenue and Crescent Drive residence also embody this simplicity of design and materiality in a classically mid-century way.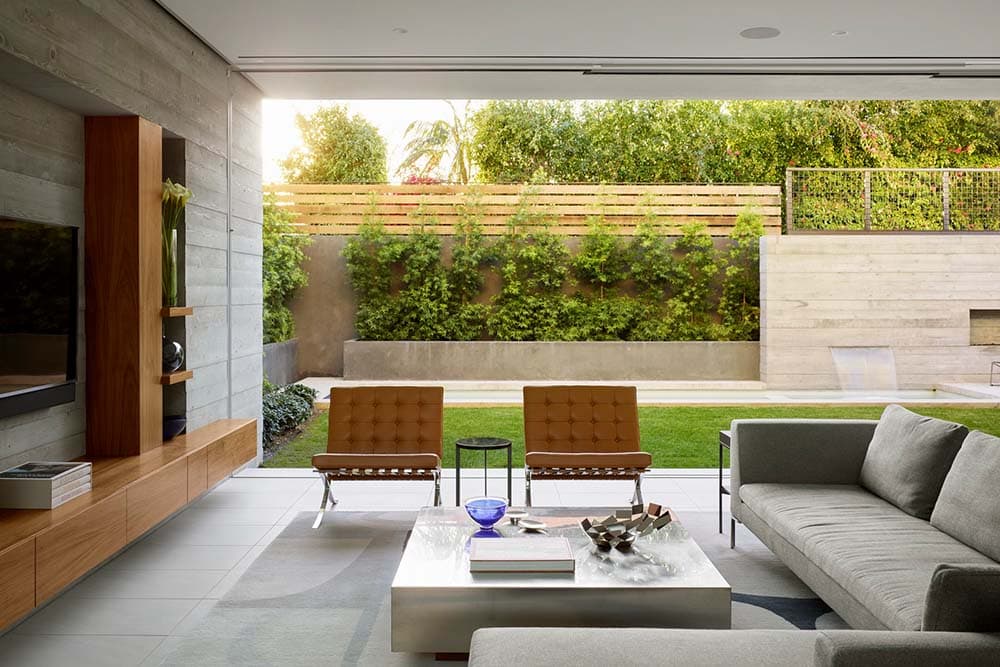 Flow
Another very important element in mid-century interiors is a drive to create an interior space which flows naturally and in a way which is conducive to lifestyle and functions seamlessly.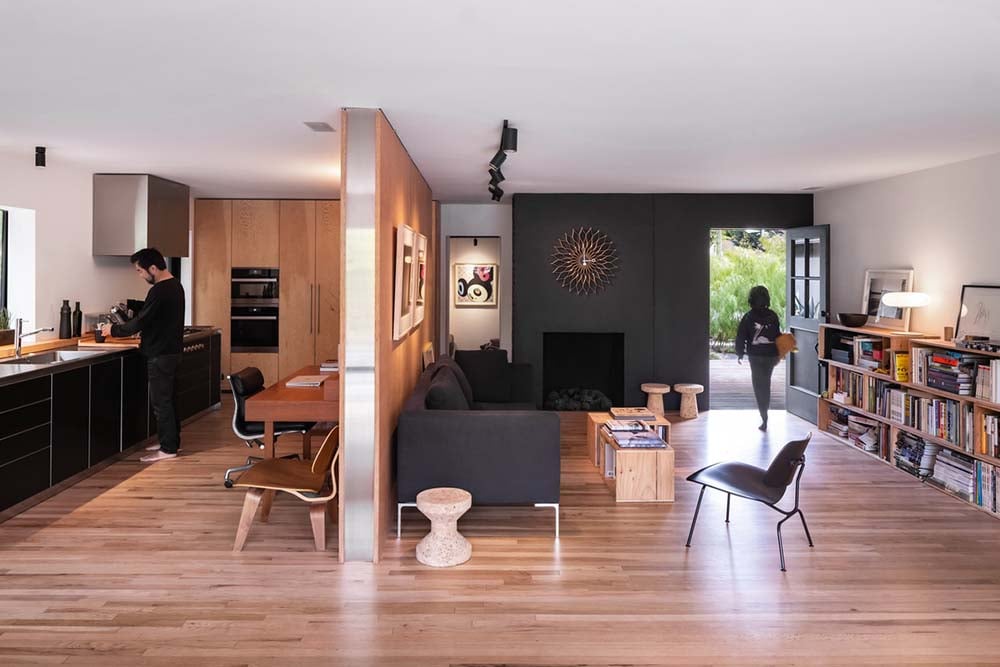 In the Kingsland residence, this can be seen very clearly in the kitchen, living, and dining spaces, which interconnect to form a single large space. The space can be enlarged to an even greater extent thanks to large glass panels which can slide away completely, opening the home to the back garden.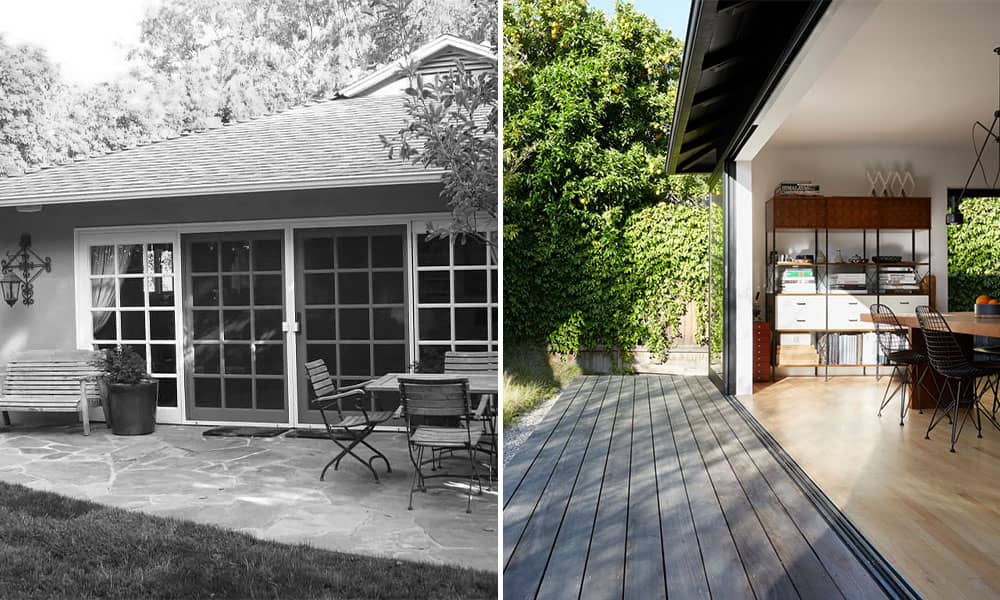 Left: Existing backyard patio; Right: Remodeled backyard patio.
The Blue Sail residence offers another example of a home built with this central principle in mind, and which uses many of the same strategies to achieve this effect.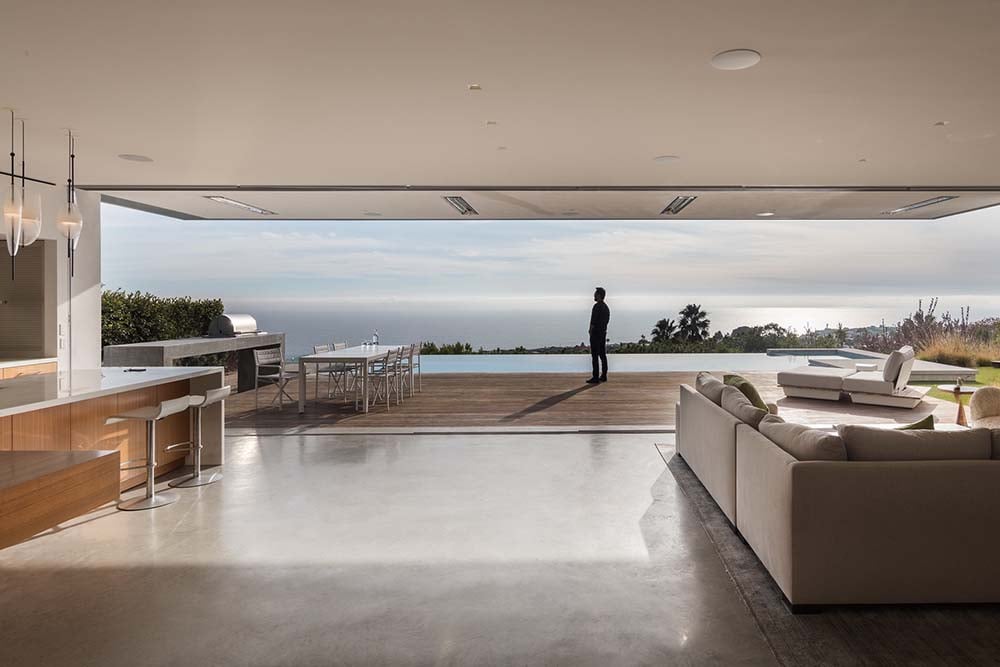 The Eames house, an iconic mid-century home designed by Charles and Ray Eames in the late 1940s and a major source of inspiration for the Kingsland renovation, is another example of this emphasis on flow.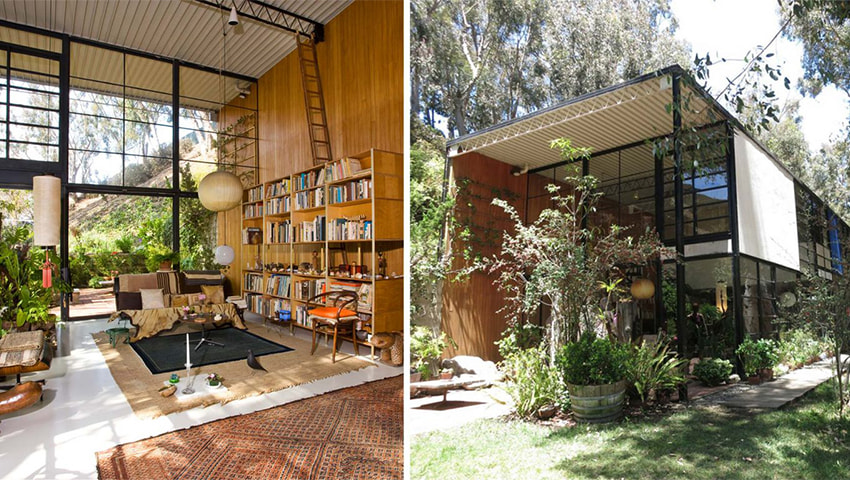 The Eames House, image courtesy Architectural Digest
Purpose
Mid-century modern design approaches a space and its contents in a holistic way, in which the exterior, interior, and furnishings of a home complement each other and work towards the same vision. They must speak as one. This means that every decision about a design must be purposeful; it must support the goals guiding the project.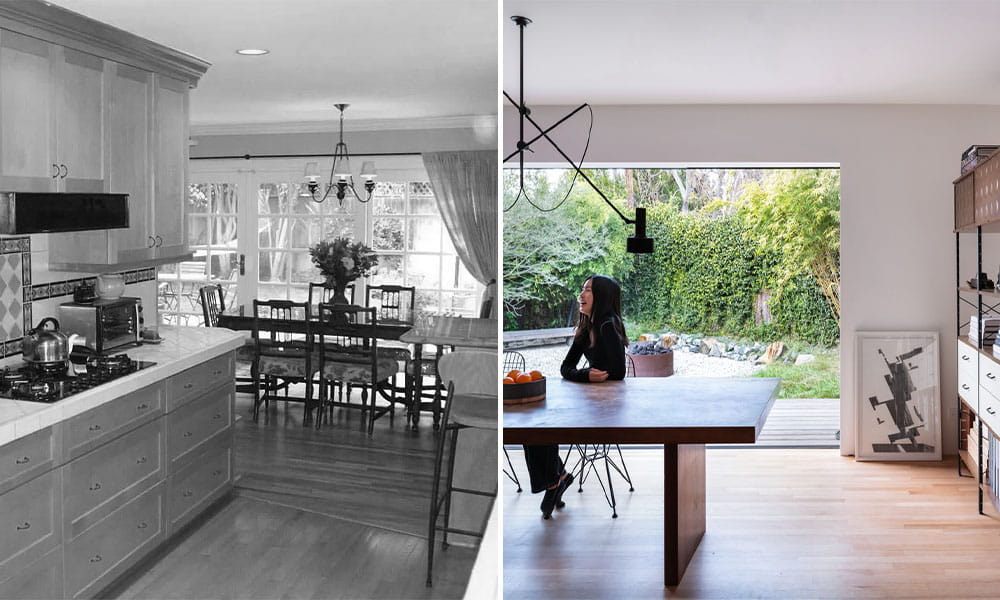 Left: Existing dining space; Right: Remodeled dining space.
In the Kingsland residence the renovation was guided from the beginning by a series of purposeful decisions to edit the existing space to create a more cohesive flow. Trims and built-in storage elements that distracted from other more important details were removed, creating more intentional choices and bringing attention to less elements at once.
The home's furnishings were also chosen in a very purposeful way.
"We wanted to feel a personal connection to everything in the house," says Yanai in reflecting on the project. "An interior should reflect the personality of the people who live there."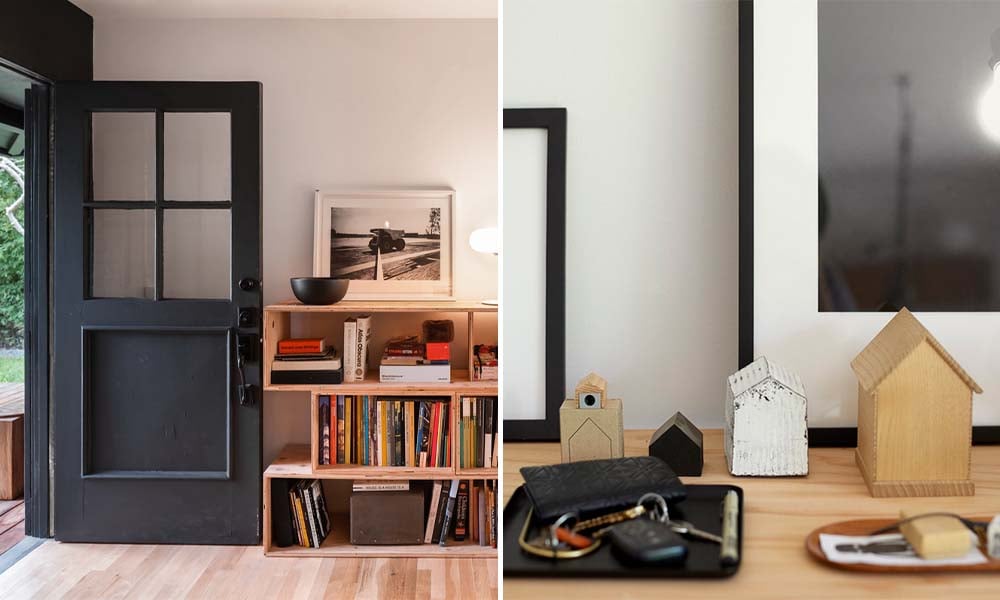 In deciding what would fill the space, items were chosen which were meaningful, but which were also functional; there was a goal for items to blend into the space—becoming as much a part of the home as the architecture itself. In this case specifically, Yanai and his family chose to fill the space with items which serve this purpose—including furniture from Eames Demetrios and Jasper Morrison, both sharing the values of mid-century design, and Japanese photography, tied to Takashi's heritage.
Connected, Through and Through
When it comes to thinking about mid-century modern design and architecture, cohesiveness is probably one of the most important qualities to keep in mind. The exterior, interior, and furnishings of a home must work together to purposefully create a space which feels as one. Focusing on fewer "big moves" versus numerous unnecessary elements is a key to creating the simplicity and function that this movement embodies. The result is a timeless space where family and lifestyle come to the forefront.