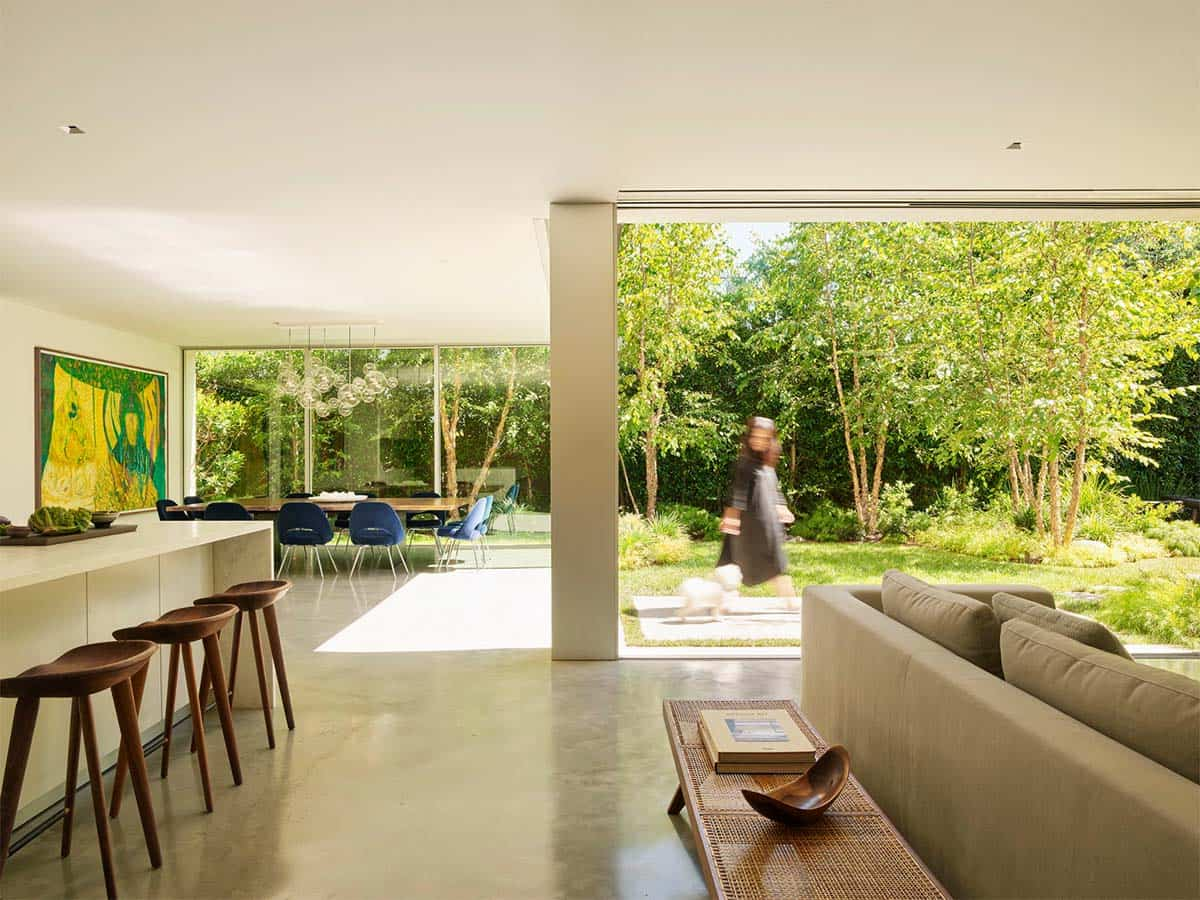 Written by Jessica Chang
During this time of uncertainty and COVID-19, the role of the home environment is more critical than ever. The home must not only shelter, but also serve as an office, a full-time kitchen, a place for entertainment and a place for peace. Having one home act in all these seemingly conflicting roles can be a challenge but is also very achievable.
This time has led us to reevaluate the role of the home and how to best prepare for the future. Here is a list of strategies and methods to create the best environment for quarantine living.
Home Design Considerations for Living Through Quarantine
1. Variety of Spatial Experiences
Spending all your time at home can take a toll on your productivity and mental health. Having access to a variety of spatial experiences is key to combating this potential malaise.
While bright and open rooms can be great for times of relaxation, the exposure can be distracting and noisy for work. Quiet spaces for focus are equally important, but often overlooked. Even prior to the quarantine brought on by the COVID-19 pandemic, many of our residential clients worked from home, requiring acoustically private areas located further from the noise generating portions of the house. These quiet corners can hideaway file storage and are ideally located for phone calls.
On the other hand, some of our clients enjoy having large, casual dining tables that can be used for co-working spaces with the rest of the family. Many clients even enjoy working outside for a sunny and verdant virtual meeting background. Having the option of a variety of spaces is great for a change of environment depending on the task.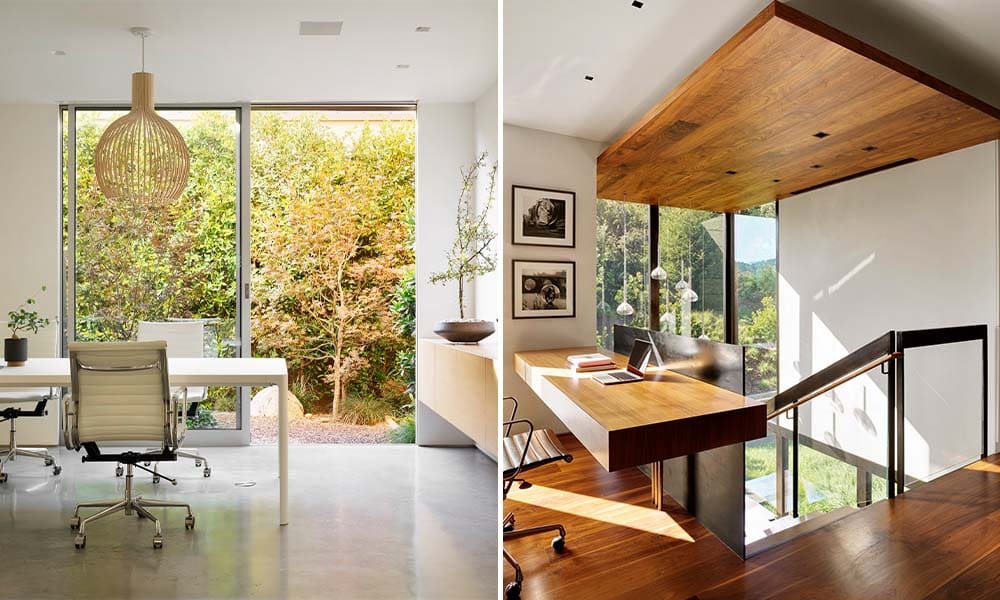 2. Flexible Spaces
We understand that not every house can have a dedicated space for each activity, which is why we incorporate flexible planning in all our homes.
For example, while we love designing bedrooms for all of our clients' guests, they remain unused for most of the year. We encourage our clients to consider multi-purpose rooms that can share the room with other activities.
In our Waverley residence, we created a generous secondary entertaining space that can be quickly transformed from a wine tasting room into a guest room with a sliding panel . During a quarantine, flexible spaces such as these can be quickly adjusted to be an extra room for a child home from college or a second office space for your partner.
A simple way of doing this may be creating an area large enough to accommodate unexpected activities. Our young clients at Crescent Drive have transformed their great room into a dance floor and hop-scotch course!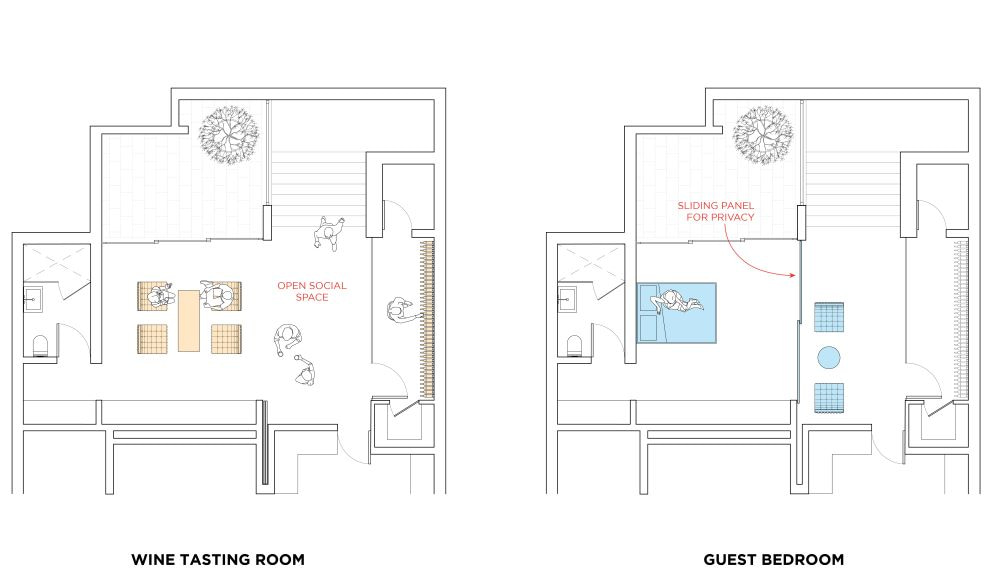 3. Flexible Furniture
Another option for creating flexible space is using flexible furniture.
There are several products available that offer adaptable configurations. The murphy bed used in our 19th Street and Corte Del Bayo projects from Resource Furniture transforms the space from a bedroom to a cozy TV den. Their "Swing Sectional" incorporates a built in sofa when in the closed configuration with a shallow shelf above. When opened for a bed, the pillows can be concealed within the seat and the shelf and seat itself act as a support for the bed.
Working with innovative systems such as this can provide additional guest rooms even if it is only needed in the evenings.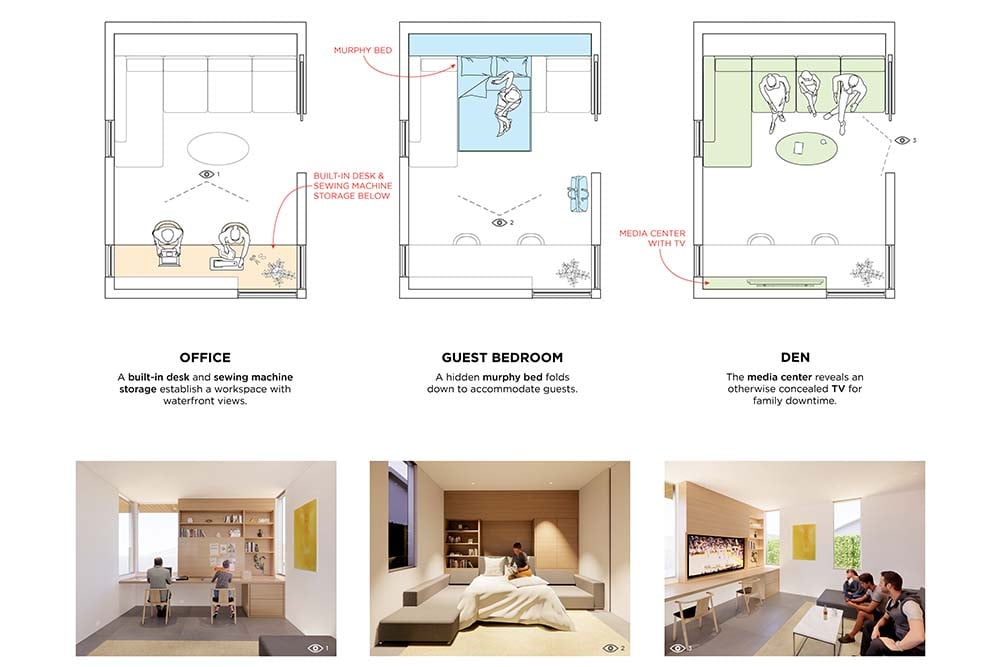 4. Divisible Rooms
Many of our clients want to create homes that can grow with their family. While a household size may not be set at the time of construction, we often create rooms that are pre-wired, and pre-plumbed to be easily divided into two rooms.
In preparation for a quarantine, this can be helpful to quickly erect a wall that creates two offices or two private bedrooms. An example of such a design can be found in our Baxter residence. The current design has a study and a generous gym with its own bathroom. Should the spaces need to be converted into bedrooms, the gym is sized to fit a full bedroom with an ensuite bathroom and closet. The original bathroom would then switch to serve the study. The back-to-back bathrooms share a wall that is pre-plumbed to accommodate the second, allowing for this potential future use.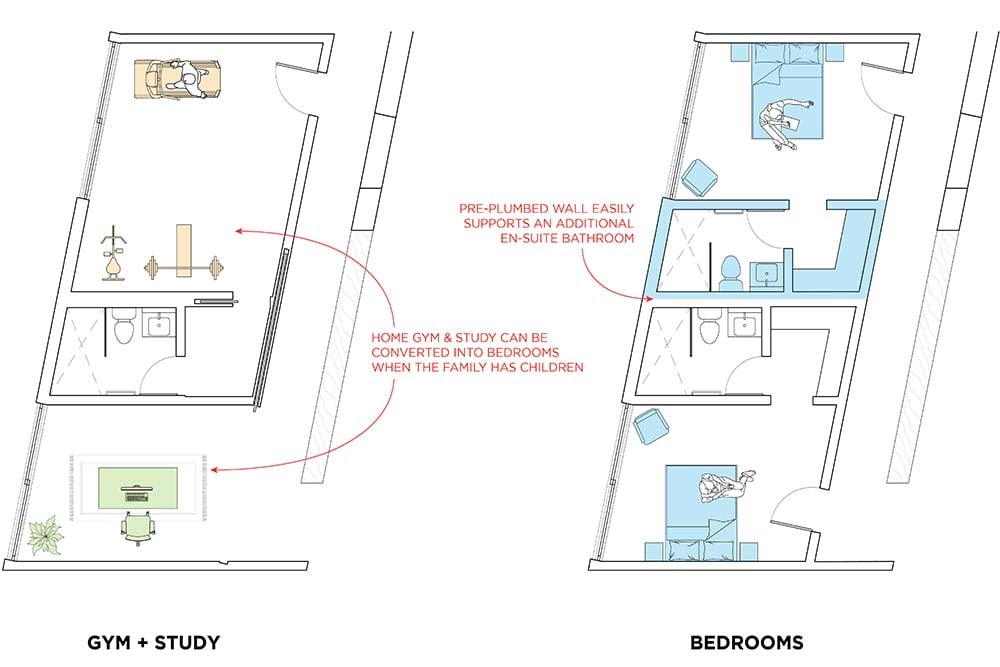 5. Designing for Cleanliness
Flexible spatial features aside, designing to promote cleanliness is an important consideration.
Cleanliness can be encouraged through spatial organization as well as through material choices. Having a mud room or a garage with a sink and workbench can be a useful place to disinfect packages and groceries. Designating "dirty" versus "sterile" portions of the house may become more common in future projects.
In addition, non-porous, smooth materials are much easier to clean and disinfect. Most of our projects already use wood or concrete floors and as material science progresses, antimicrobial materials can be considered for floors or countertops. Copper and silver are known to have inherent anti-microbial properties and coatings can be applied on many building elements. The future may include more germ-resistant materials for high-touch surfaces such as doorknobs and faucet handles.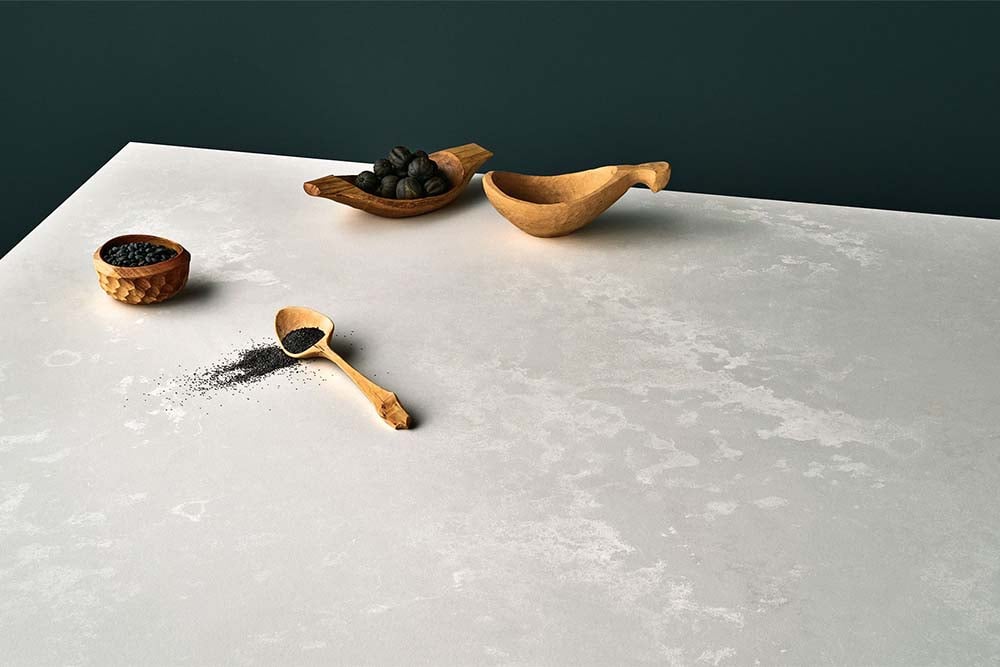 Solid Surface countertops such as quartz (Caesarstone) are anti-microbial.
6. Indoor Environmental Quality
With the global shutdown leading to a significant decrease in air pollution across major metropolitan areas, we are opening our homes to natural ventilation more than ever. While increased air flow makes us feel great and reduces HVAC energy consumption, keep in mind that indoor air quality can be affected by many factors beyond what comes in our windows.
We suggest using an affordable air quality sensor like AWAIR, which monitors CO2, relative humidity (RH), and chemical toxins (VOCs) to alert us when the indoor air quality reaches unhealthy levels so we can make adjustments.
For example, confined spaces or rooms with no direct access to good ventilation may have higher levels of CO2, which can lead to headaches, fatigue, and lower productivity levels. Unhealthy levels of CO2 can be addressed with increased mechanical or natural ventilation to the space.
It is important to also track the relative humidity of our homes, because maintaining humidity at healthy levels (50-60%) helps our mucus membranes in the nose and throat defend against airborne pathogens, such as the coronavirus. Conversely, if the humidity levels are too high (>65%), damp parts of the home can be susceptible to mold and heightened reaction to allergies. If humidity levels are outside of the 40-65% range, a humidifier or dehumidifier can be placed in a room to return relative humidity to a healthy level.
Lastly, spending more time at home has highlighted the impact new interior furnishings and cleaning products have on our air quality. New products may off-gas chemicals (VOCs) when they first arrive or during cleaning, so having the air quality sensor alert you when VOCs reach unhealthy levels will allow you to open a window or turn on an air purifier to offset the impact.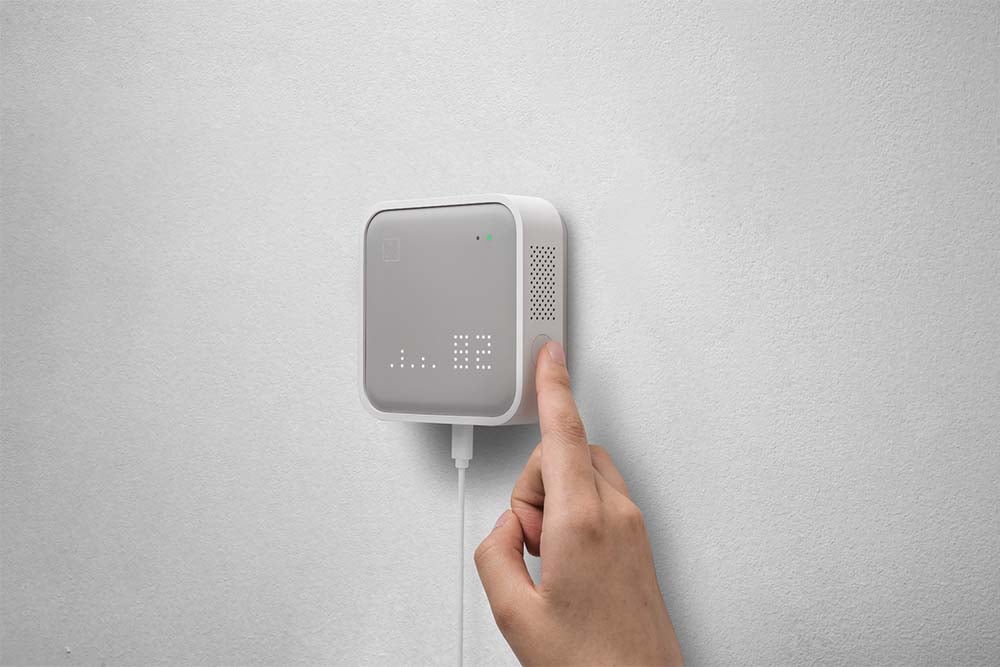 Awair Omni air quality sensor.
7. Space for Physical and Mental Health
With popular classes and bootcamps unavailable during a quarantine, home gyms become increasingly attractive. While for some this requires a full set up with weights and machines, it can also be as simple as creating an open area to stream a workout.
The ability to move and keep up physical health at home can help maintain a sense of normalcy in an otherwise hectic situation. In our Waverley residence, a home gym sits as a freestanding pavilion in the backyard. This separation from the house creates a zen area for exercise and meditation. The act of walking into another building can create a mental shift with the change of environment.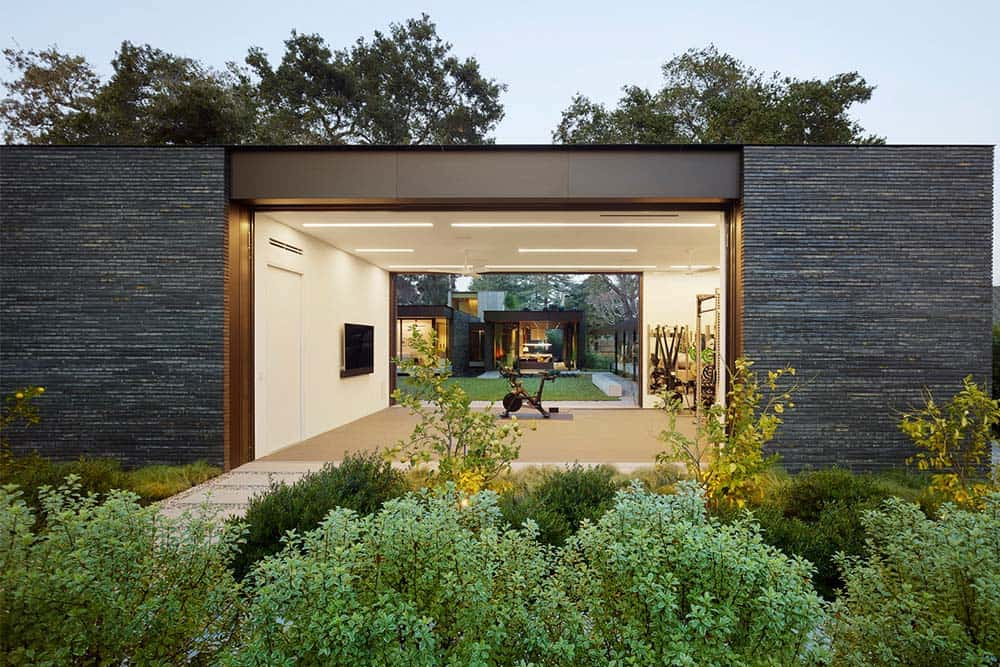 8. Access to Outdoor Space
Access to outdoor space is especially vital during this time. While it is tempting to build out all available space, it is important to carve areas for landscape or access to light and air.
Bringing the outside in is a key element of the EYRC ethos. Our garden spaces are as carefully considered as the living spaces. Vegetation and fresh air help with the trapped feeling that a quarantine instills. The ability to extend a view beyond the limits of the house out into the landscape also relieves the pressure of remaining in place.
Access to landscape does not need to mean a large expansive lawn; we incorporate areas for landscape even in our most compact urban infill houses. For example, our Navy residence backs onto an alley in Venice Beach. Though this may not seem like an opportunity for landscape, we created a courtyard open to the sky, creating a meditative space off the master suite. The solid walls surrounding the courtyard block the views of the alley and frames the sky.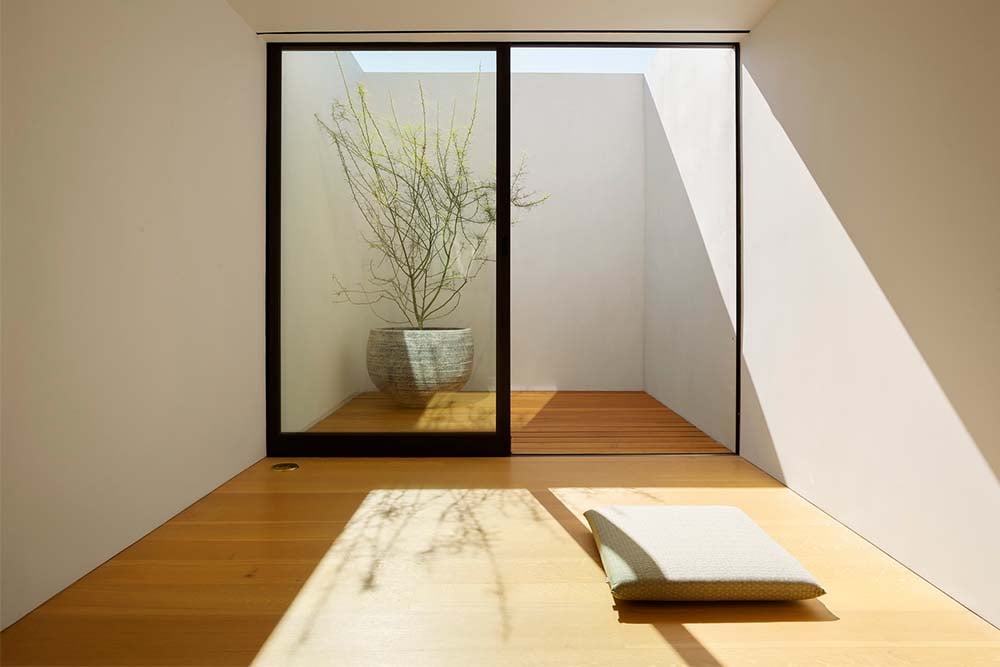 Home Design for an Uncertain Future
The way in which we all view our homes has changed—it is our hope that these suggestions can assist you and your family in making your home more comfortable during quarantine, and be a resource to guide you in any future projects you may undertake with home design and construction.