Written by Takashi Yanai
Diverse perspectives are valuable in our globalized world, and each country in East Asia owns a rich history of culture and architecture that is influential and inspirational to modernist design. Elements of traditional Japanese architecture, in particular, have consistently been channeled by modern architects in Los Angeles and beyond.
EYRC serves as a prime example of this fact, as several elements of traditional Japanese architecture have reappeared as ongoing influences in EYRC's portfolio of residential work.
Below we discuss some of the more important characteristics of traditional Japanese architecture that have influenced various residential projects that we've completed.
1. Layered Landscape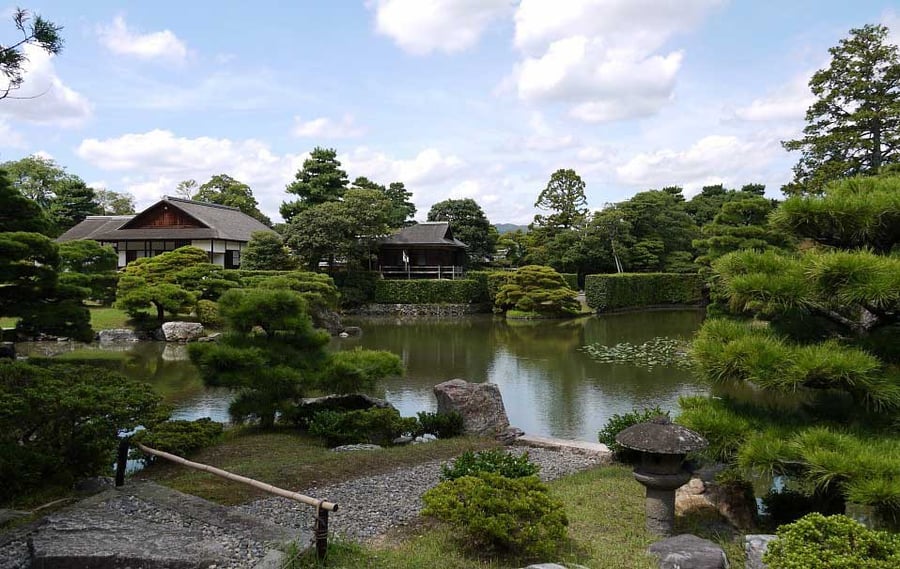 Katsura Imperial Village. Image courtesy: ThousandWonders.net
Rather than conquering the land, deep ties to Shinto and Buddhist beliefs drive a desire for harmony with nature. Japanese landscape design is careful to create a seamless transition from nature to the built environment.
The Katsura Imperial Villa in Kyoto exemplifies the deft placement of a sprawling building within a landscape. A highly choreographed design, materials change underfoot, subtly changing views and pace depending on fine sand to large stone pavers. Pavilions concealed by trees and bushes are slowly revealed, allowing the visitor to expect the unexpected. The whole of the built-form is not seen from a single point as vistas and layers require an active participation with the land.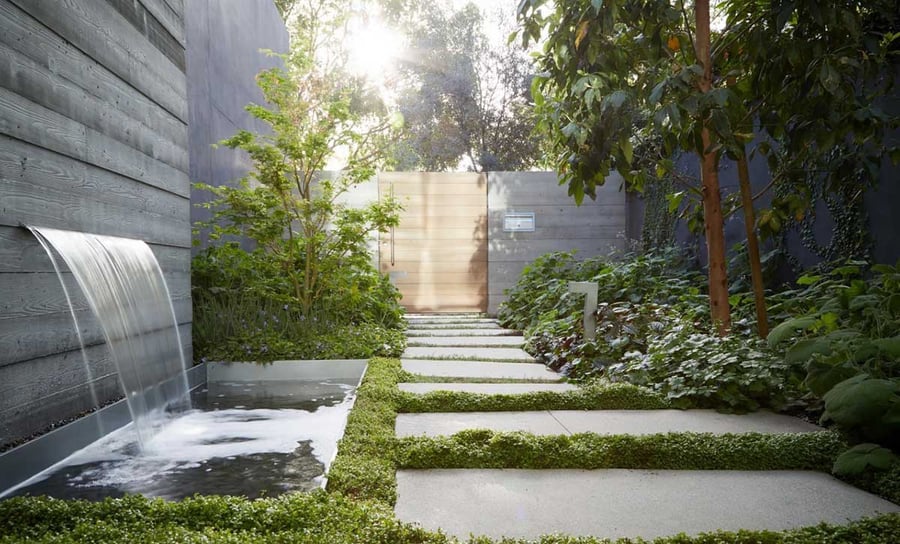 EYRC's Crescent Drive Residence
Though not on an expansive palace grounds, some elements of the landscaping at Katsura is reimagined at the Crescent Residence in Beverly Hills. An entry court begins the transition from the urban outside to in, utilizing water, plants, stone and concrete to create a sense of calm. Layers of texture and materials are choreographed, allowing senses to be engaged.
2. Contemplative Courtyards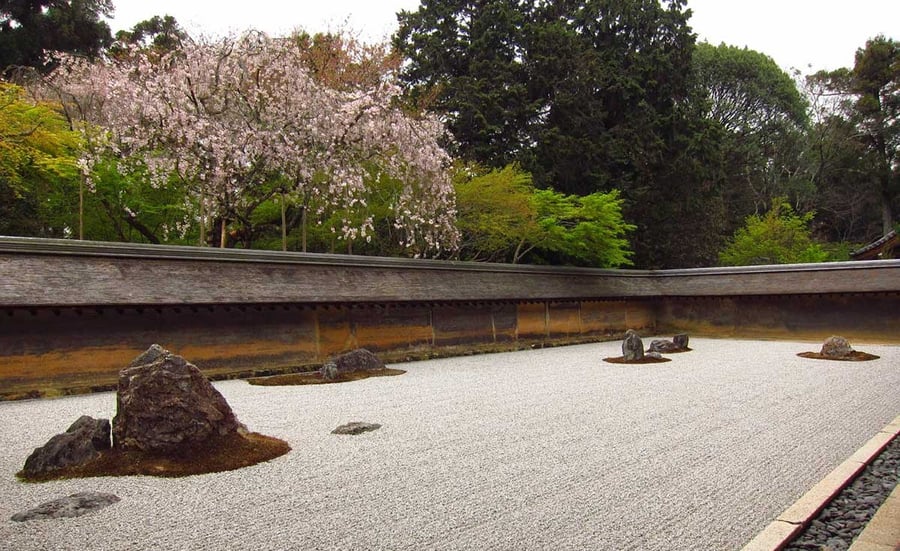 Ryoan-ji Buddhist Garden. Image courtesy: RoundOfTheSeasonsInJapan.com
The Zen Buddhist garden of Ryōan-ji is one of the most well-known examples of a courtyard rock garden in Japan.
Nature reduced to a minimum, this is a garden not meant to be entered or walked in. Low walls hem in the space while layers of material and slight changes in height separate the viewer from the array of rocks within groomed sand. The meaning of the garden remains unclear, encouraging the visitor to find a meaning of their own.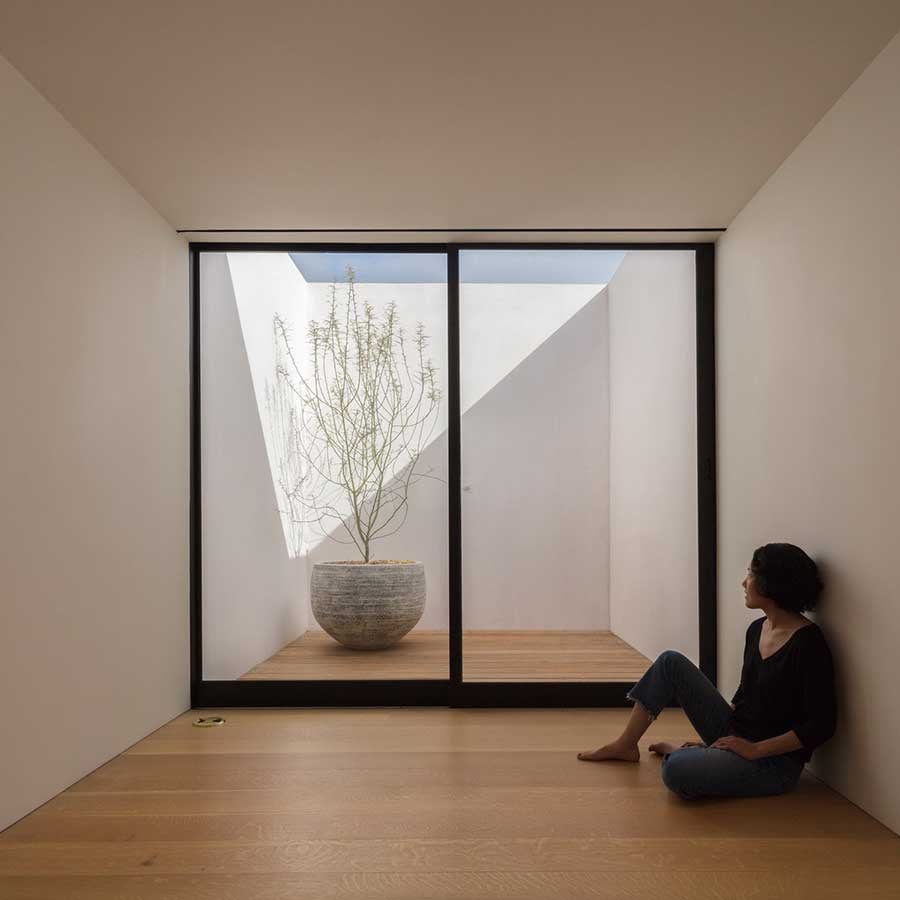 The indoor/outdoor living room at the 19th Street Residence in Santa Monica is used as the primary gathering area for a close family. However, moments of respite for each member is necessary. Simple in material and detail, the small sky courtyard at the top of the staircase lends a quiet space to think or rest. Subtleties of light can be observed as the shadows trace the across the walls.
3. Garden Courtyard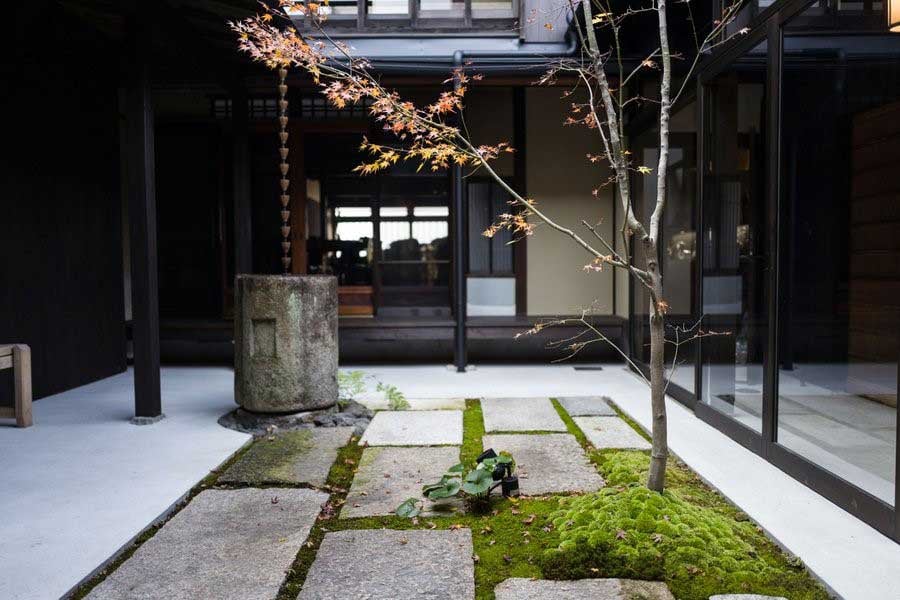 Though not organized along formal axis like British and French gardens, traditional Japanese gardens are nonetheless meticulously maintained and carefully composed.
Functioning as a harmonious focus, the courtyard allows light and views for rooms while maintaining privacy. Often abstractions of nature, the microcosm of the natural world is intimately brought into the residence.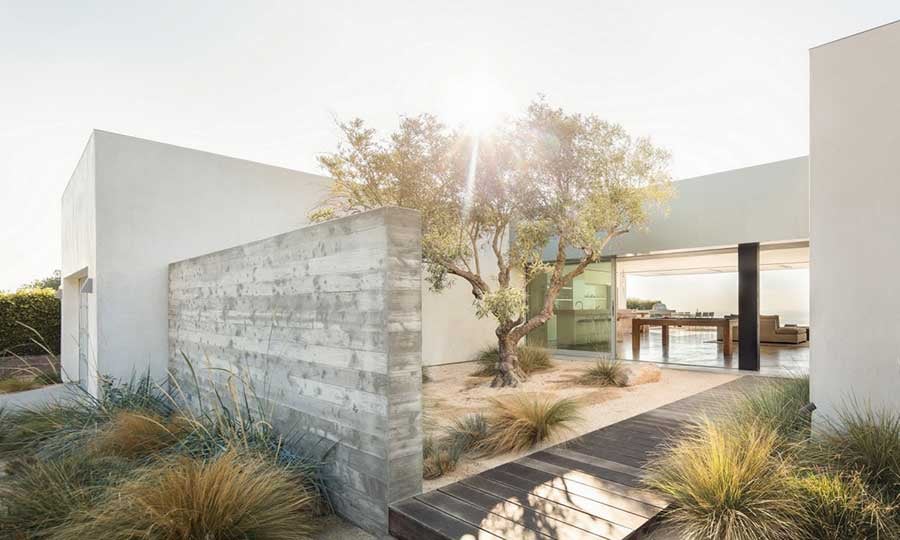 The complete renovation of an existing house, the Blue Sail Residence in Pacific Palisades begins with an entry garden courtyard. Centered on a mature olive tree, this courtyard blocks out public views while maintaining openness and access to light. Glass walls of the interior side of the courtyard offer hints at the awaiting expansive view of the Pacific Ocean.
4. Engawa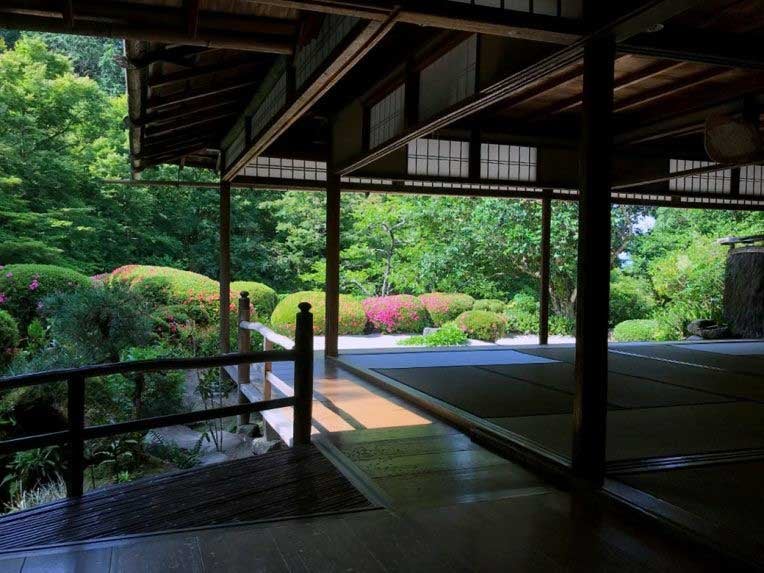 Example of Engawa. Image courtesy Welcome-to-Kyoto.com
An outer covered corridor around the building, the engawa adds an important layer between interior and exterior. At times protecting the shoji screens with storm shutters, the engawa is the realm of circulation as well as a place to sit and observe the garden.
At Shisen-dō, a now Buddhist temple in Kyoto, a carefully preserved garden is on view from the engawa.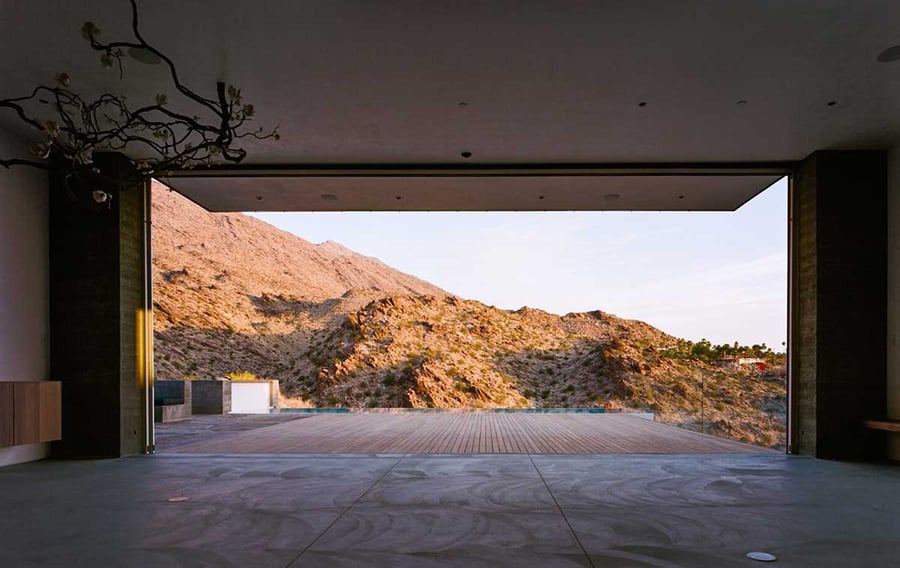 EYRC's Ridge Mountain Residence
Embedded in a rugged area of Palm Springs, the Ridge Mountain Residence mitigates the hard climate with thick walls and deep overhangs. The sliding doors, seamless floor transition and overhanging balcony create a engawa-like space, carefully framing a view of nature.
5. Post-and-Beam (Shoji)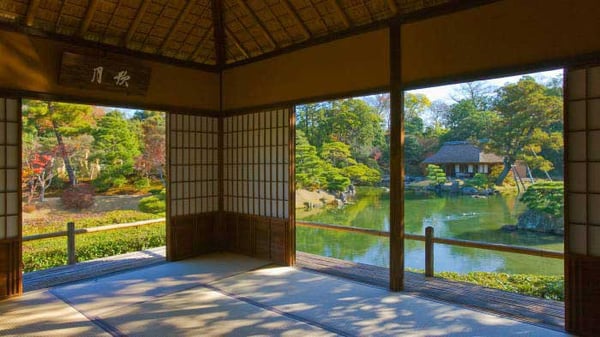 Example of Shoji. Image courtesy FT.com
Wood post-and-beam construction does not depend on load bearing walls but on wood columns. Exposing the skeletal construction, these structures allow for an openness and connection to nature.
Free from load-bearing duties, shoji screens are used as movable walls, modulating light and shadow. These lightweight panels are made of translucent paper on wood frames, allowing the easy reconfiguration of the flowing space.
Katsura Imperial Villa used the structural system and light walls to enhance points of mediation and use of the villa. Open, flexible plans utilizing connections from inside to outside, went on to influence modernist designs in Europe and beyond.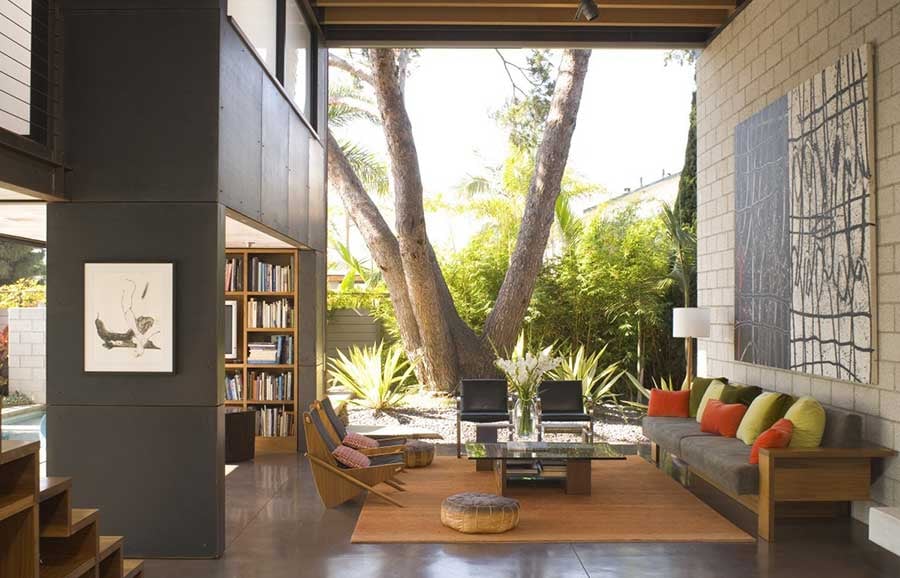 On a narrow lot in Venice, the 700 Palms Residence utilizes elements commonly found in traditional Japanese architecture. In a favorable climate, the wood and steel structure permits the use of large panels of glass to move on three sides, blurring the distinction between inside and outside. With a transformable open-plan, the home can be constantly tuned to the public/private or environmental needs at any moment, a breathing space of natural elements.
---