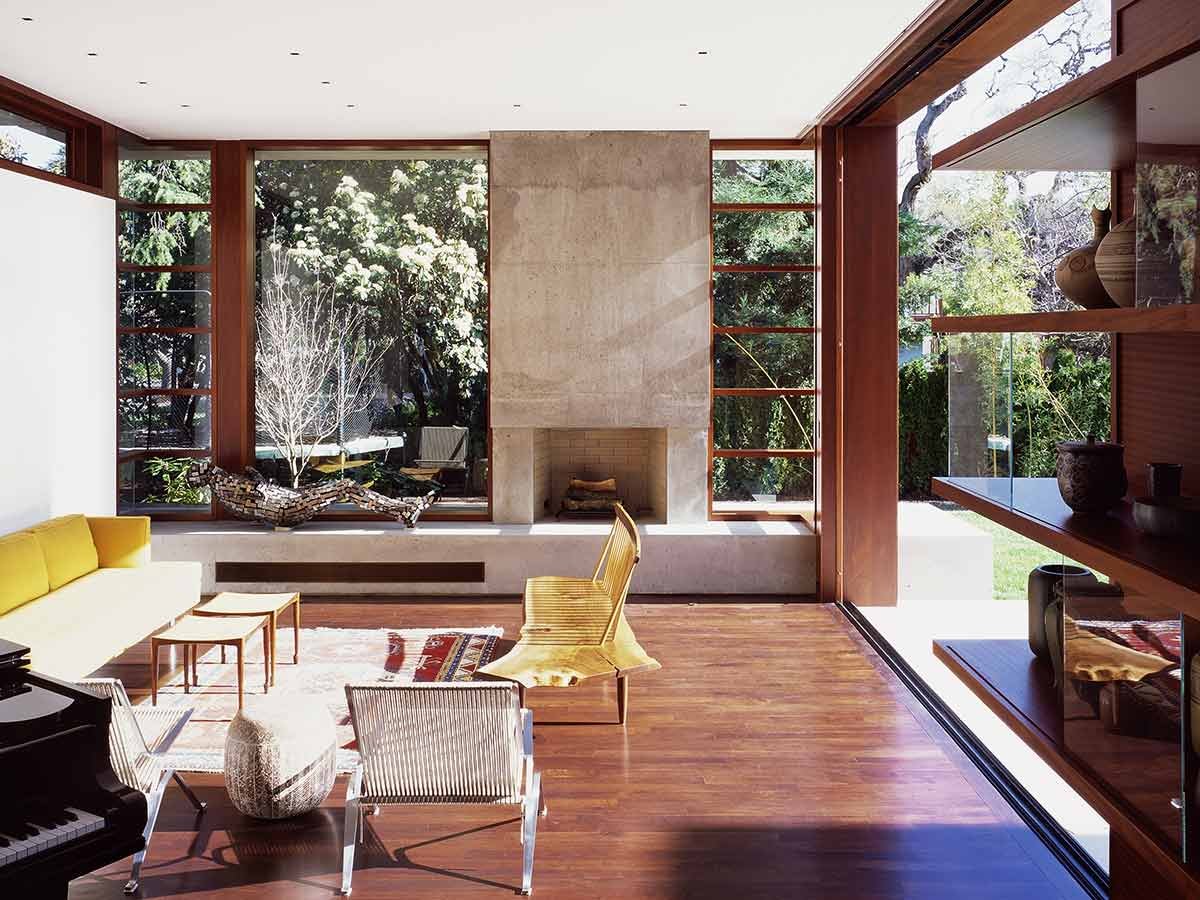 Modern residential architecture is built upon many different influences, Japanese Architecture being one of them. Japanese architecture, presents several congruences with modern architecture, especially along the west coast of the United States. If you are in the process of designing a custom modern home and looking for inspiration as to what your interior should look and feel like, Japanese design traditions have much to offer.
Below, we briefly discuss the defining characteristics of modern Japanese architecture and highlight a number of examples that you can use as inspiration in your own project.
Characteristics of Japanese Interiors
Generally speaking, Japanese architecture tends to take a contemplative approach to design. The layout of the home will typically offer numerous opportunities for introspection. Construction, shapes, and movements are reduced to their simplest forms, allowing the beauty of the materials to shine through alongside the craftsmanship that went into constructing the home. Careful steps are also taken to tie the interior of the home to the exterior space in which it exists.
1. Opportunity for Introspection
Japanese architecture often has moments designed for introspection. This characteristic carries over quite well into modern residential design.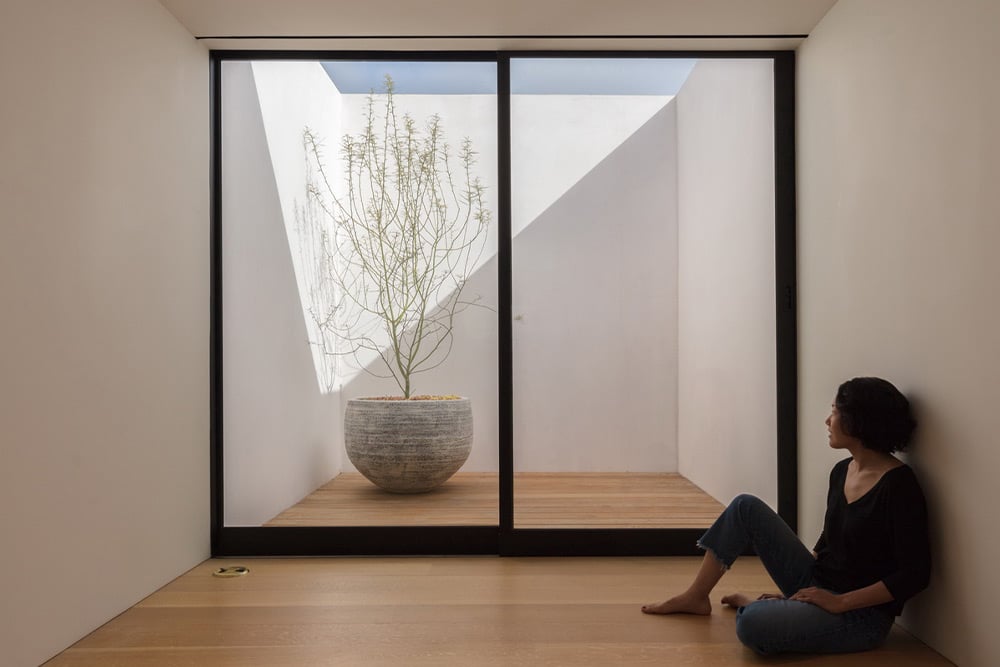 EYRC's 19th Street Residence
Introspection can be achieved in a number of ways. An interior courtyard, with views only to the sky can hold a plant that is meant to be gazed upon. Likewise, windows are used strategically throughout the home to carefully frame and orchestrate the inhabitant's view, drawing the eye toward something that can create a moment of peace and serenity.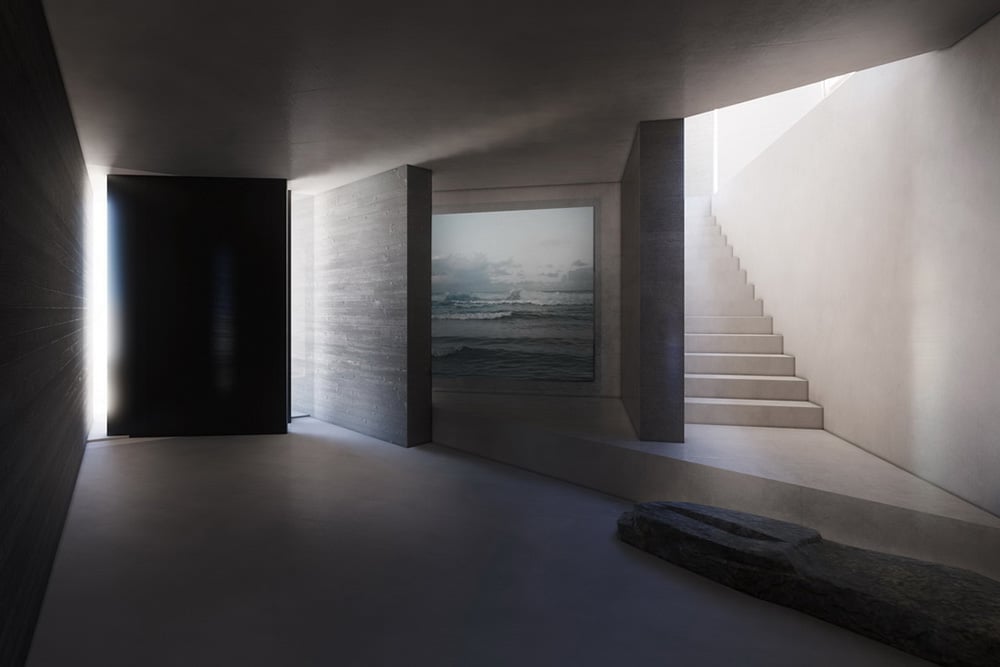 Tokonomo at Emerald Bay
In addition to nature, art offers the opportunity for introspection. With this in mind, many Japanese-inspired homes will incorporate a type of art niche known as a tokonoma, which would traditionally hold a piece of calligraphy and a flower arrangement. In a non-traditional design, one could place a sculpture or painting. Placed strategically throughout the home, these niches directly embed contemplative spaces for the inhabitants.
Lighting can also help create moments of meditative peace. In Jun'ichirō Tanizaki's In Praise of Shadows, Over-exposed lighting is described as vulgar, running the subtle details of spaces. In the image above, the home entry is purposefully kept dark as light streams from the level above where an expansive ocean view is revealed. This stark contrast creates an even larger moment of awe as one discovers the costa view.
2. Material Integrity
Japanese architecture depends upon honesty of materials, in which the natural beauty and characteristics of the materials themselves are honored and celebrated without being obscured. Wood, stone, and plaster are all commonly used materials.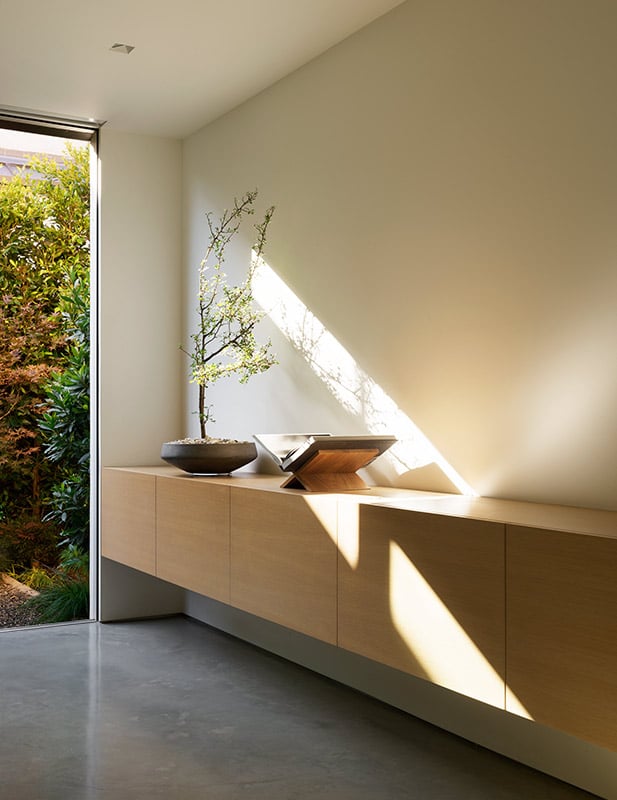 Japanese architecture also accepts the fact that materials change and age over time. This is often celebrated by designing a material palette which features materials that age gracefully or beautifully.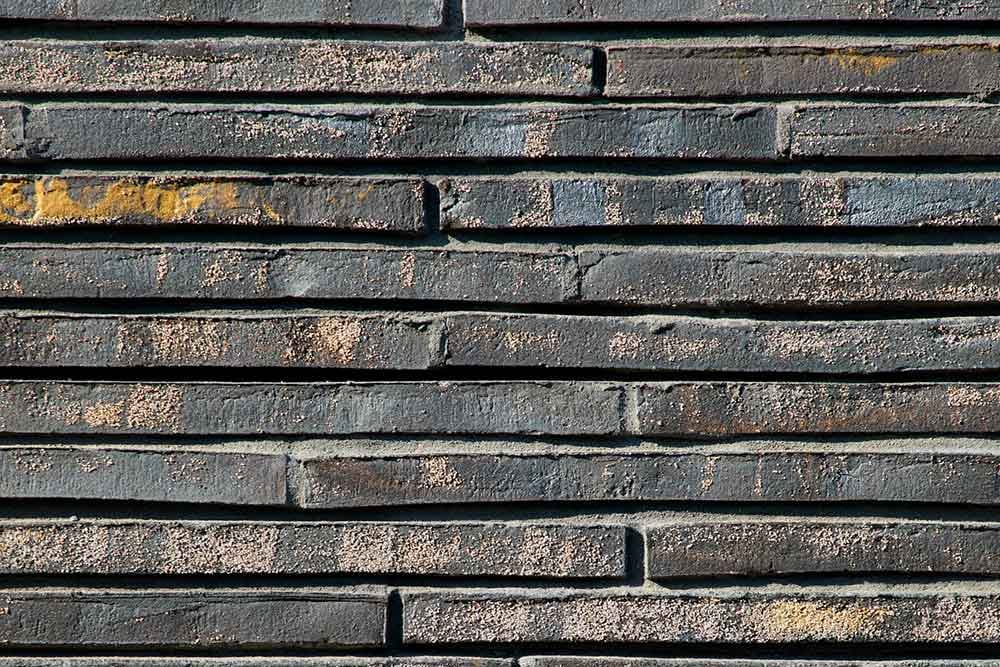 For example, zinc panels or corten steel may be used on the exterior of a home. As the metal ages, it will oxidize, forming an exterior layer which is both beautiful and protective. As wood ages, the natural grain will show through and areas may bleach with sun exposure; concrete and stone may crack or stain, but these signs of patina are embraced.
3. Connection to the Outdoors
In traditional Japanese architecture it is very important for the interior of a space to have a connection to the outdoors. This can be achieved in a number of ways.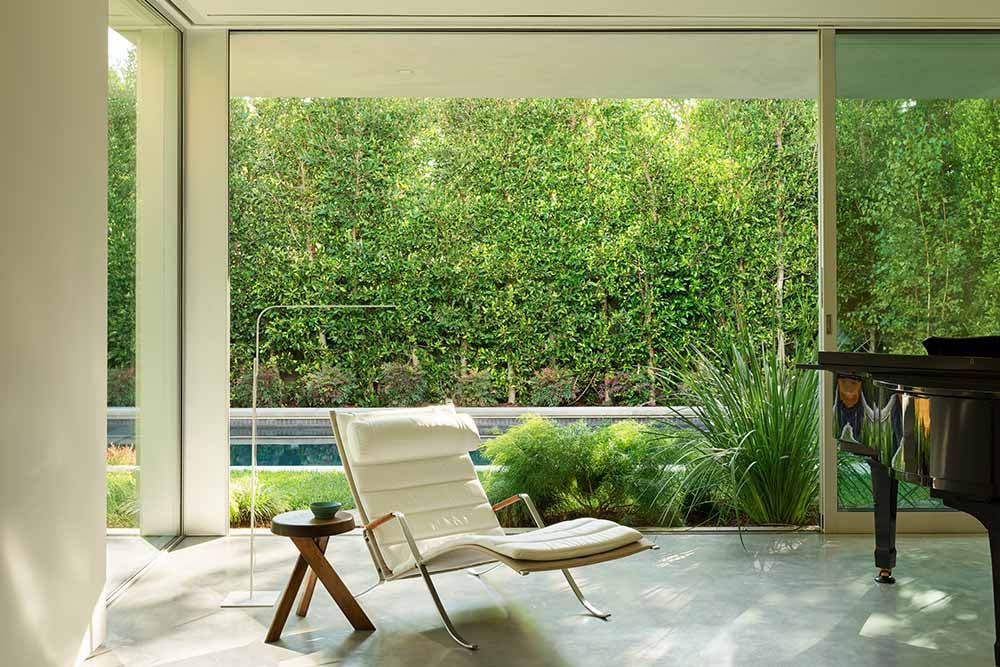 One of the most common and effective ways of achieving this is to create interior spaces which bleed directly into the outdoors. Beyond floor to ceiling windows and sliding doors, the interior of the home can connect to the outdoors through the use of an engawa.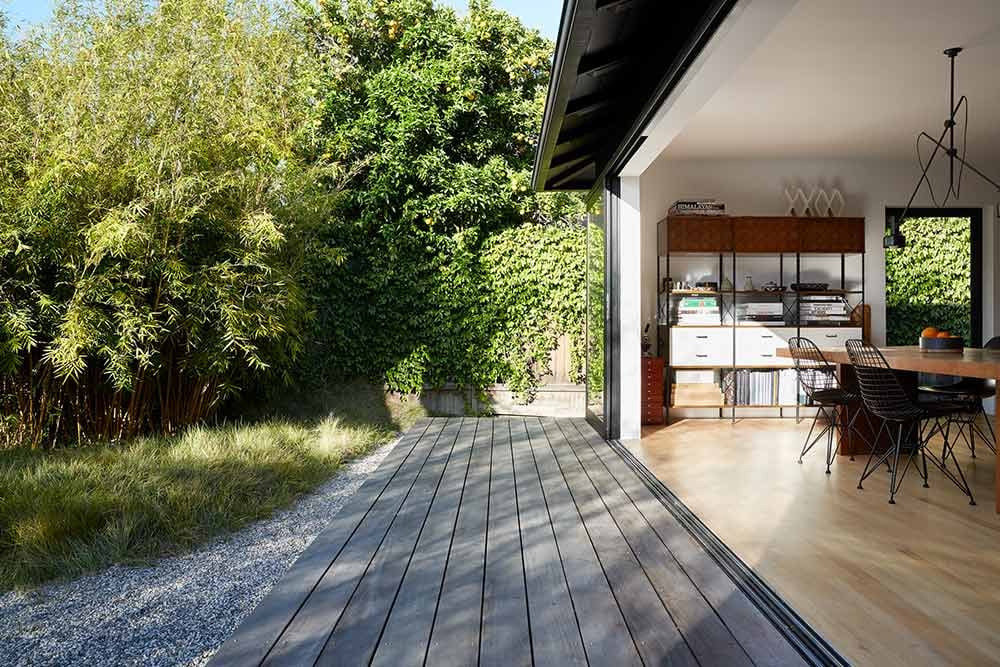 Materials can help you blur the boundaries of the interior and exterior of your home. If you used a certain material on the exterior of your home, you might continue to use it in the interior of your home so that the two spaces resonate and feel cohesive. Additionally, you might select a material for your interior palette which specifically resonates with an element found in the landscape—for example, the color of a leaf in your yard, or the hue of the mountains in the distance.
Universal Values
While each of the characteristics discussed above are integral to modern Japanese residential architecture, it's important to note that they are not uniquely Japanese in nature. They are also found in the architectural traditions of other cultures, such as Scandinavian, and directly relate to the core tenets of mid-century modern architecture in the United States.