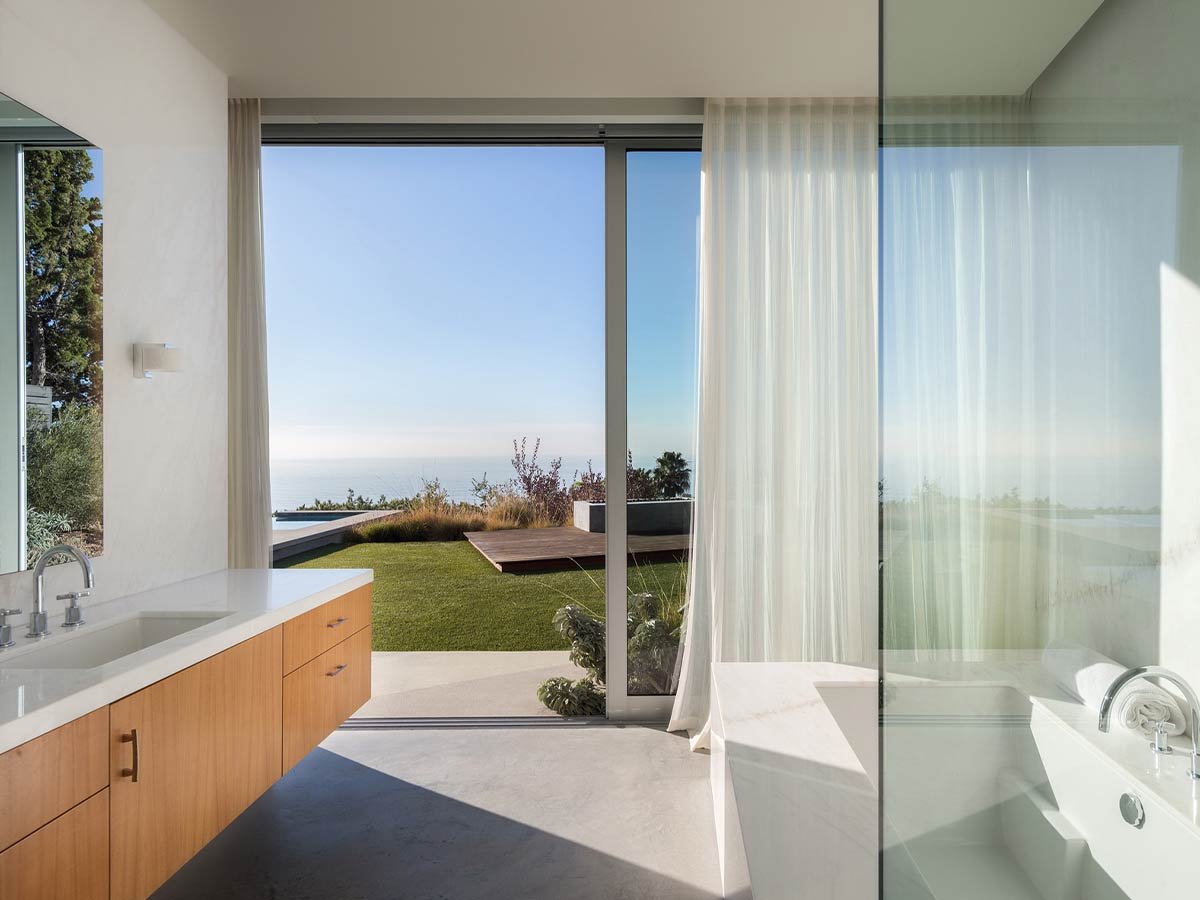 Have you ever visited a spa and thought to yourself "wow I wish my bathroom could look like this?" - it's common! Spas and saunas are the epitome of relaxation, meditation, and pampering. But while a trip to the spa is, for most, an occasional treat, when you are designing a custom home you have the opportunity to create a similar respite right there in your own space—specifically in the bathroom.

Are you looking for inspiration for designing a relaxing spa bathroom in your modern home? Below, we discuss five key considerations that you should keep in mind while conceptualizing your bathroom space.
How To Create a Spa-Like Bathroom Experience
1. Keep the details simple.
In order to create an environment that is calming and peaceful, you should take steps to keep the details in the bathroom as simple as possible. This will reduce visual "noise" that might otherwise prove stimulating or distracting, helping you to create the ambiance that you are after.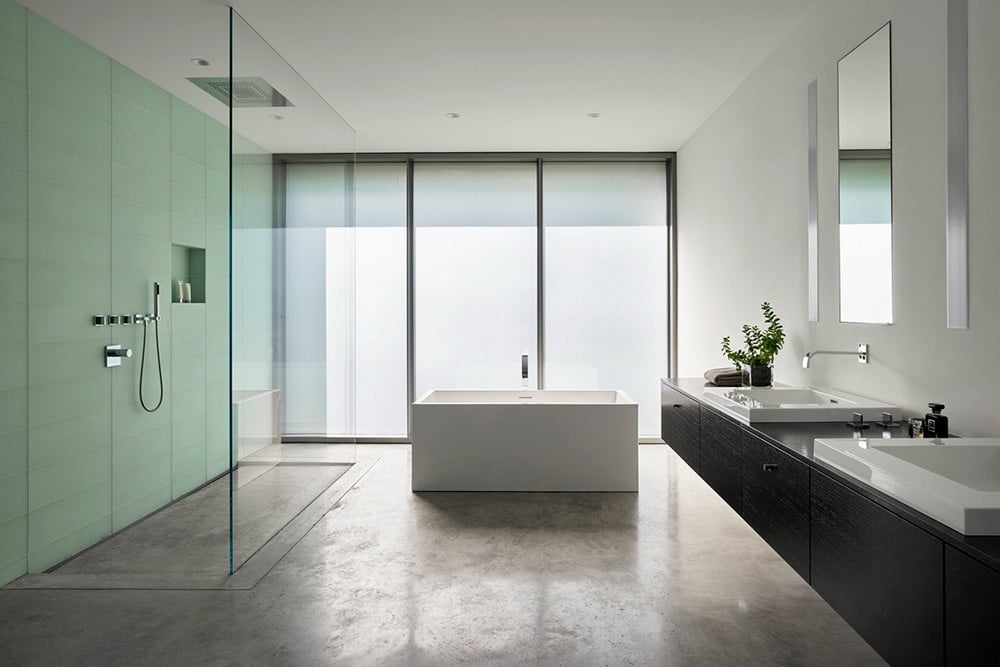 How you do this will depend on your space, but there are many ways that you can accomplish it. The easiest way to do so is to think critically when choosing the fixtures that will be included in your bathroom. Selecting the simplest, cleanest designs instead of more ornate finishes will make a big impact in the final feel of the bathroom. Likewise, a neutral color and material palette will help generate a calming effect on the space.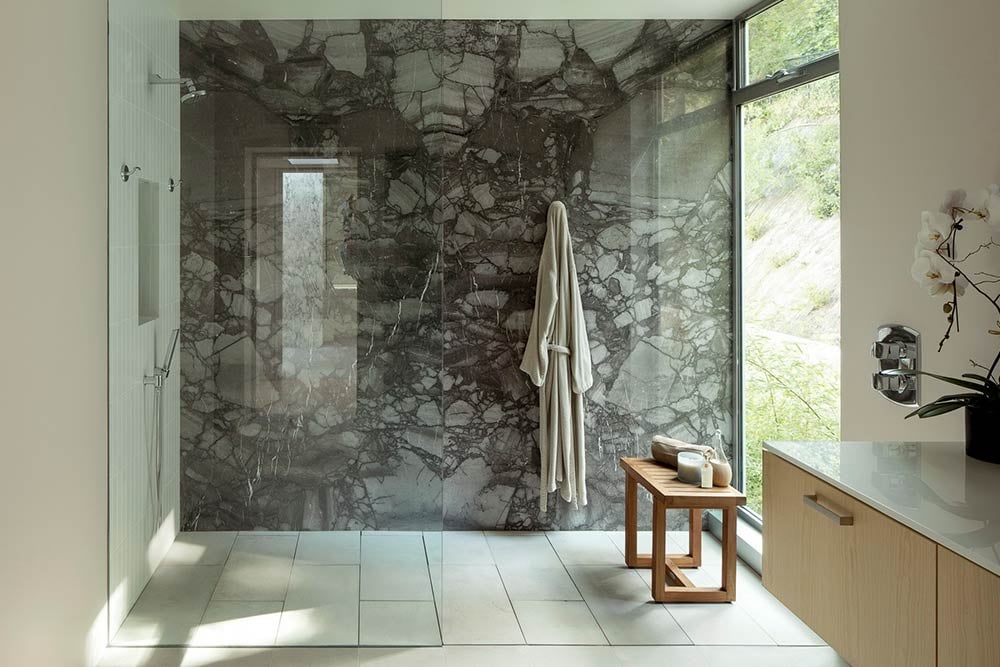 When it comes to selecting materials for the floor and walls, opt for materials that can be installed in larger units—for example, a series of larger marble slabs as opposed to dozens of smaller tiles. Leveraging smaller tiles would require grout which can become quite busy and distracting, while a larger expanse of stone is simpler and offers the opportunity to show off the quality of the material.
2. Have a place for everything.
Another way of making your bathroom feel more calming and peaceful is to have a place for all your items. Customizing the space with storage for essential items, whether large collections of products or for a smaller guest bathroom only the essentials, the space should be designed to contain the appropriate amount of objects via custom storage.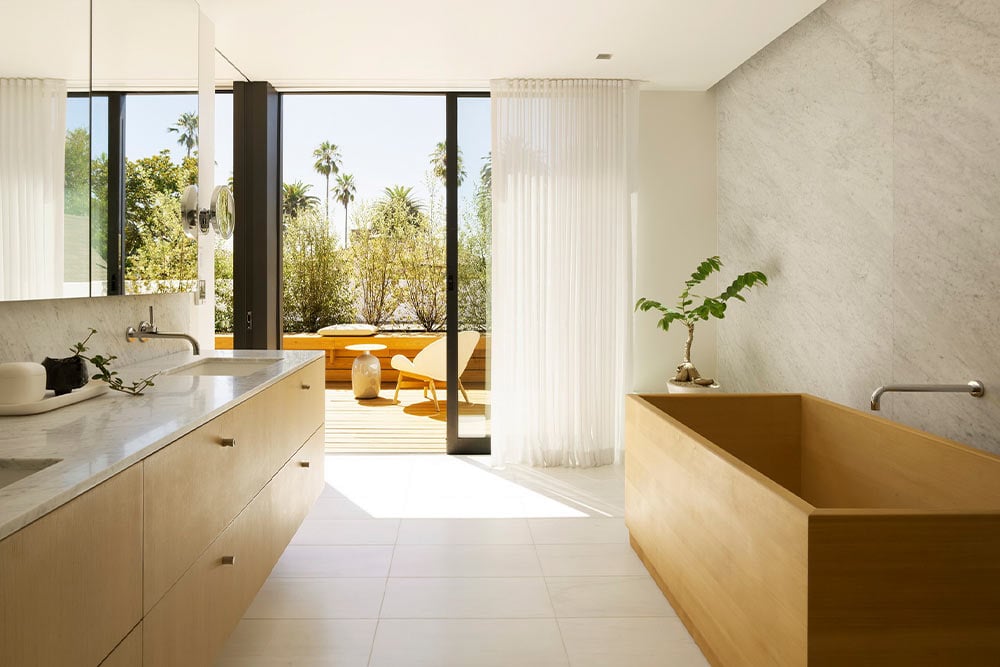 Custom cabinetry and vanity units are a great way to elevate your bathroom to include the right amount of space, as well as selecting material finishes which will complement the rest of the fixtures and features of the bathroom. Above, a palette of warm woods became a theme throughout the house, and in this primary bathroom space for the owners, the cabinetry complements the material palette well.
3. Be conscious about your lighting.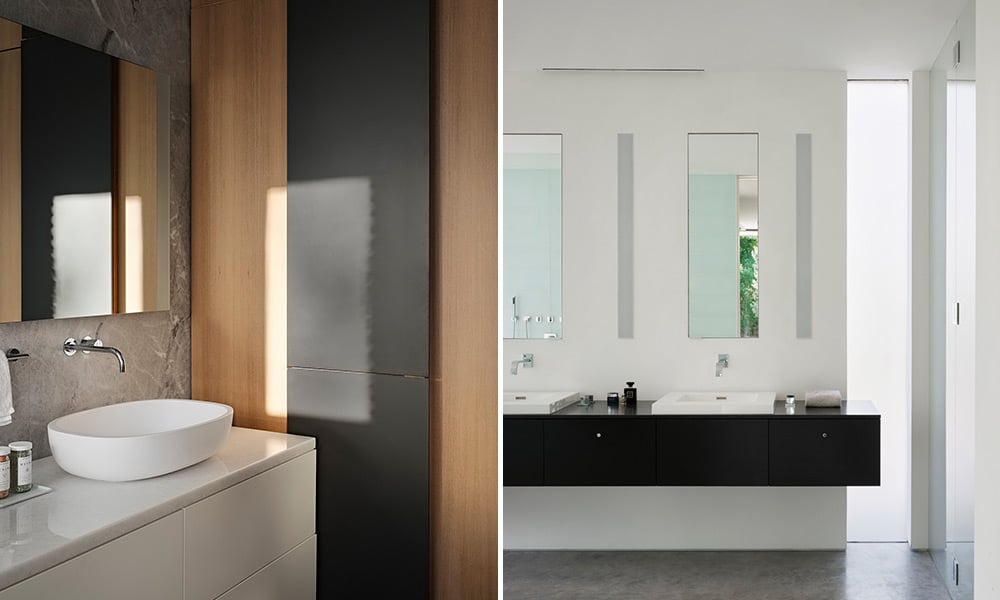 Look for opportunities to introduce natural light into the bathroom space. Strategically placed windows or skylights can offer a calming connection to the outdoors. Natural light can offer a great backdrop when using the bathroom mirror and help attune your body to wind up or down for the day.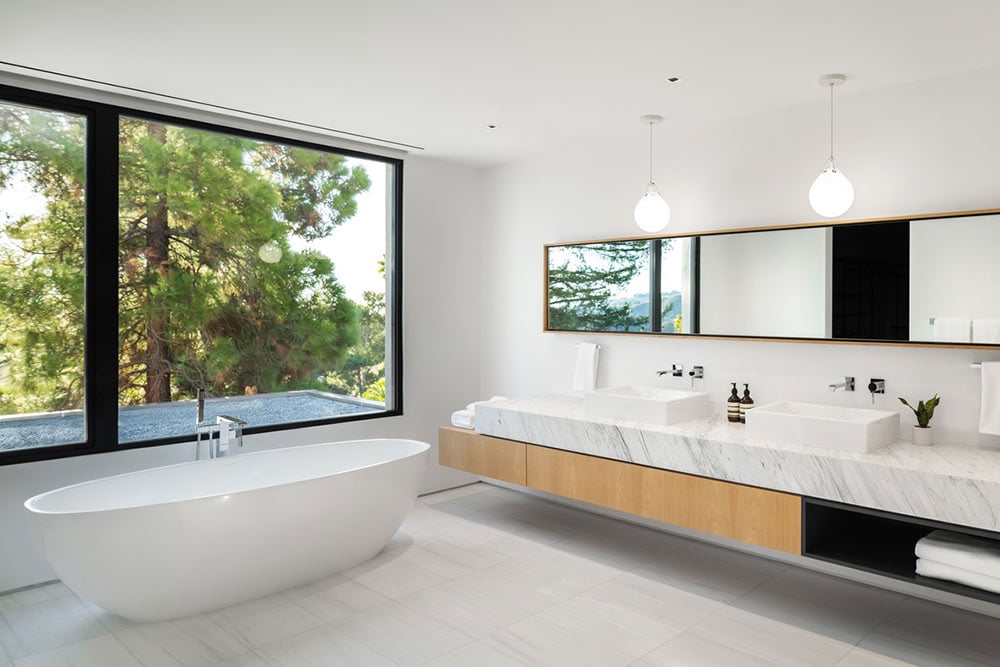 For artificial light, consider fixtures behind the bathroom mirror or overhead in a recessed cove, as this helps to create a more diffused and ambient type of light compared to direct light. Also think critically about the temperature and color of the light and how that can either stimulate or relax you.
4. Be strategic with your windows.
Having windows in your bathroom builds a connection to the outdoors that is integral to all of EYRC's designs.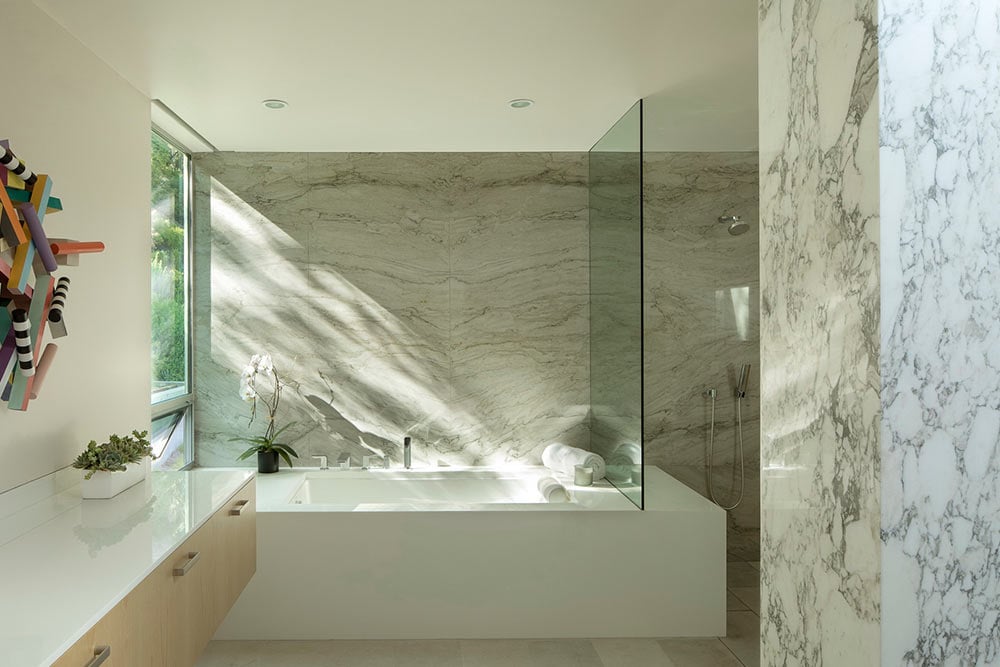 If the bathroom overlooks your garden, you could use this information when designing the layout of the room. In this scenario, you might place the bathtub so that the "head" of the tub faces the view. You can then place a punched window at the exact height and location to frame the view, allowing it to become a focal point whenever you use the tub.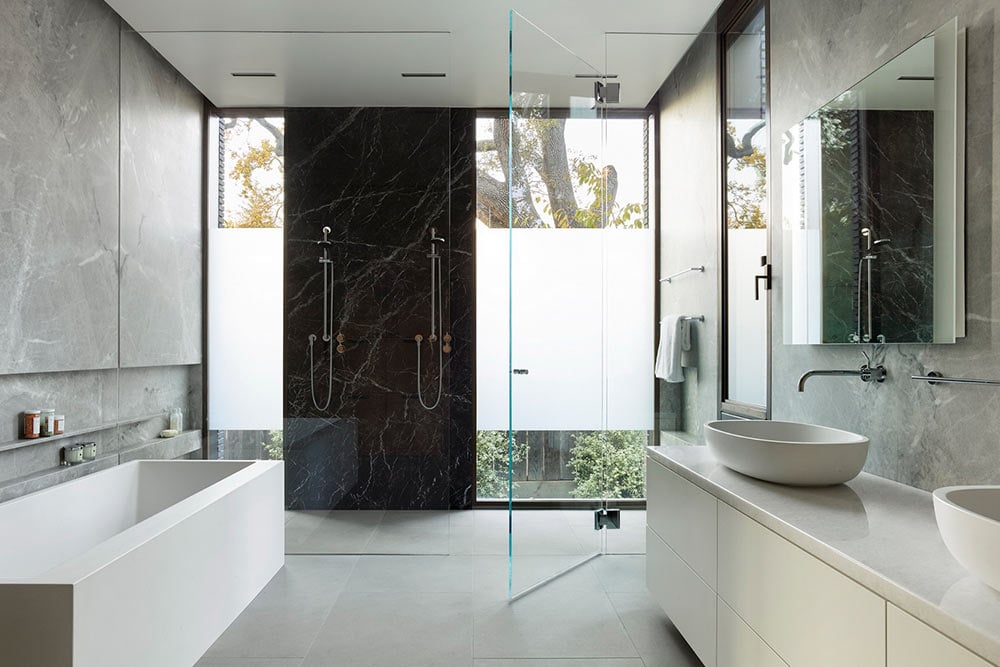 Of course, your bathroom is amongst the most intimate of locations within your home. With this in mind, it's important to design for privacy whenever possible. When it comes to windows, this might mean leveraging a frosted treatment that allows in light while providing privacy. Likewise, you might simply choose to orient the bathroom so that it is facing your yard as opposed to neighboring structures.
5. Feature a sculptural piece.
In a spa, every single piece of furniture works to further the idea that you are in a calming, beautiful place. This same concept can be applied in your own bathroom. Items like counterspace and a tub are necessary in a bathroom; but they can also be beautiful in their own right.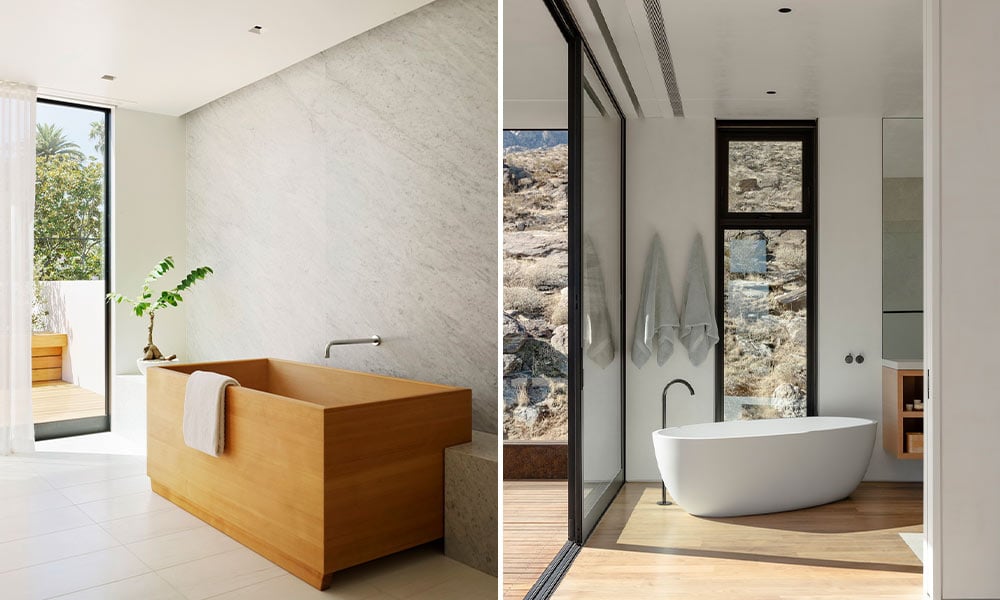 For example, you might choose a tub that is sculptural in nature instead of one that blends into the background. In this regard, the tub becomes more than just a utilitarian object; it becomes a focal point for the room and something that is beautiful in its own right.
A Unique Opportunity in Your Home
Your bathroom presents a unique opportunity in your home to design a space that is calming, relaxing, and even luxurious. The considerations above can all be leveraged to create a spa-like bathroom where you will be able to shed the stresses of the day and clear your mind.